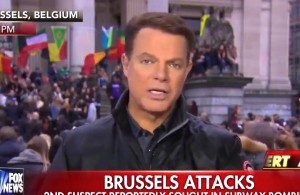 Fox anchor Shepard Smith delivered a firm rebuke to Donald Trump's claim that Brussels was a "horror show," affirming that its citizens resented the presidential candidate's coarse characterization of their wounded city. "A horror show, it is not," Smith said.
Trump made the claim that Brussels was a "horror show" on the Today Show Tuesday morning when he told host Matt Lauer: "Belgium is no longer Belgium."
"Belgium is not the Belgium that you and I knew, Matt, from 20 years ago, which was one of the most beautiful cities and one of the safest cities in the world. Belgium is a horror show right now," Trump said, presumably meaning to say Brussels, Belgium's capital city.
Smith, reporting from the city for a segment on Outnumbered Thursday, noted that Trump's caustic remarks proved to be a useful sound byte for ISIS, who appropriated them into a new propaganda video released. He described the video's use of Trump's language:
It's a clip of his audio, not video, but Donald Trump says 20 years ago Brussels was a great city. Today, let me remember exactly what he said, today it's a horror show. And I quote, 'Today it's a horror show, a complete horror show.' I must tell you, the locals have taken great exception toward that. Word of it has spread around here quite quickly. Brussels has neighborhoods where there are problems, where there's great division and great problems within communities, where law enforcement don't speak with the feds, there's no question that they have some problems in some local areas, but brussels is not a horror show from our experience and not from be those who we've met here. the streets are beautiful, the people are as lovely as they can be. We've enjoyed their company and they've treated us like guests in their own home. brussels is a beautiful old european city and a wonderful place to visit. People here, at least, are upset that's how it's been characterized by the leading republican for office in the United States. A horror show, it is not.
Outnumbered co-host Andrea Tantaros jumped to Trump's defense, saying it was a "little disconcerning [sic] that the people of Brussels are more worried about what Donald Trump is saying than the carnage that's taking place and the problems they seem to be facing," presumably meaning to say "disconcerting."
Have a tip we should know? tips@mediaite.com