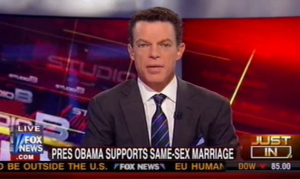 We previously reported that Fox News' Shepard Smith reacted to President Obama's announcing his support for gay marriage by saying that the president "is now in the 21st century." Well, he also went a step further, critiquing Republicans for being on the "wrong side of history."
RELATED: Prez and the Evolution: President Obama Comes Out For Gay Marriage To Robin Roberts
Bret Baier pointed out to Smith that, while Obama's position is self-described as an "evolution," it's really come "full circle" — since a 1996 questionnaire clearly conveys his support for same-sex marriage.
"A lot of the country has made it pretty far as well, Bret," Smith responded. "What I'm most curious about is whether it's your belief that during this time of rising debts and medical issues and all the rest if R would go out on the limb and try to make this a campaign issue while sitting very firmly, without much question, on the wrong side of history on it."
Baier said, "I don't know about that." There has been an evolution in people's thinking, he said, but still, 32 states voted to ban same-sex marriage. So, "electorally," he said, it may not be the "perfect position" to run on.
"But you really think Republicans might use this as an issue?" Smith asked, to which Baier responded, "No, the Republicans want to talk about the economy."
Smith then pointed out that the president's announcement doesn't change things legally. The matter is still up to states, he said, possibly alluding to the 1960s civil rights era:
Of course, in reality, what really matters is what governors are saying. This makes no legal changes of any kind. This is a states issue, at least for now — which may sound familiar to a couple of generations ago, but that's where we are.
Take a look, via Fox News:

(H/T RealClearPolitics)
Have a tip we should know? tips@mediaite.com