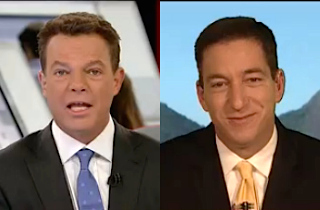 On Wednesday, Glenn Greenwald's new site The Intercept released the latest revelations to come from Edward Snowden's NSA leaks. The new story, which Greenwald had been teasing and hyping for weeks, named five prominent Muslim-Americans on whom the NSA and FBI have been spying for years, despite the fact that they engaged in no known terrorist or criminal behavior.
Referencing his guest's appearance on Fox a few weeks ago, Smith told Greenwald, "you were talking bombshells and fireworks and all that. Glenn, to be quite frank, in today's news cycle, this is being played below President Obama being offered a puff, puff pass in Colorado."
"It's gotten a lot of play," Greenwald replied, a bit defensively, noting that his site just posted the report last night at midnight and the news has been prominently featured on The New York Times today.
"I mean, the fact is that there are people who look at the targets and will think, 'Oh, that's only Muslims. And even though they're my fellow Americans, I'm not really bothered by it,'" Greenwald added, "I think sometimes that's part of it. But I think the implications are sinking in nicely."
Later, Smith asked Greenwald, "Is this the finale? Is there more we're going to learn from the Snowden documents, or is this the finish?"
Greenwald assured the Fox host that he has other stories based on Snowden's leaks already written and other journalists around the world are collaborating on further revelations. "But for me, this fills in a really important part of the picture," he said, "which is putting a human face on how — we all know that the Obama administration is bulk surveilling all of us, but this puts a human face on the kinds of dangers that can be presented to dissidents or people who criticize the government from the most invasive forms of surveillance. So it's important, but not the last."
By the time they reached the end of the interview, Smith seemed more interested in Greenwald's on-the-ground report on how Brazilians are feeling after yesterday's World Cup loss to Germany than anything to do with government surveillance on Muslims.
Watch video below, via Fox News:
[Photo via screengrab]
— —
>> Follow Matt Wilstein (@TheMattWilstein) on Twitter
Have a tip we should know? [email protected]