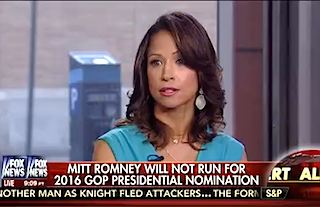 You can add Fox News contributor Stacey Dash the growing list of Mitt Romney truthers. After the two-time GOP presidential candidate announced Friday that will be not be seeking the nomination for the third time, CNN's Jake Tapper cautioned that he might not be out for good, saying his remarks were "full of caveats." On Outnumbered, Dash went even further with her theories.
"I think the fact that he is a numbers guy makes me believe that this is a chess move," Dash said shortly after the Romney news broke. "I don't believe he's not going to run." She added, "I think he is the man for the country."
"Even though he just said he's not going to run," co-host Andrea Tantaros replied, finding herself in the unlikely voice of reason role.
When Dash repeated her comments about Romney being a "numbers guy," Tantaros said, with a laugh, "But a numbers guy would have to start raising money right now." As someone who has worked on campaigns, she said, "You've got to put in the infrastructure now."
RELATED: Media Figures React to the Big Mitt Romney News
The one line in Romney's remarks that people are pointing to as a glimmer of hope that he might not be out of this thing for good came towards the end of his conference call with supporters. "I've been asked, and will certainly be asked again if there are any circumstances whatsoever that might develop that could change my mind," he said. "That seems unlikely."
So, you're telling me there's a chance…
Watch video below, via Fox News:
[h/t TPM]
[Photo via screengrab]
— —
>> Follow Matt Wilstein (@TheMattWilstein) on Twitter
Have a tip we should know? tips@mediaite.com