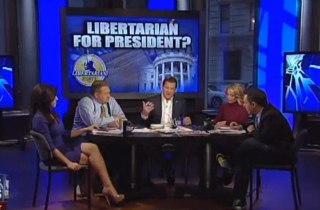 After Sen. Rand Paul asserted this weekend that America might be ready for a libertarian Republican presidency, Fox's The Five debated whether that is actually true.
"Is America ready for a libertarian president or really just saying a small government person with less military output?" co-host Greg Gutfeld asked his panelists after a monologue on what he'd like to see in a future president.
"I think they often are considered too controversial because of their positions on legalizing pot, which now has become more mainstream; and legalizing prostitution, that a lot of conservatives can't wrap their arms around," Andrea Tantaros explained. "Rand Paul is different. I like him a lot. I think that he speaks the truth. He is very, very tough. He doesn't go back and forth. He is not his father," she said, apparently missing the memo that Rand's father, Ron Paul (R-TX), was considered one of the most "consistent" members of Congress throughout his career.
"A lot of people say, 'I'd love to vote Republican but I can't because of the social issues,'" Tantaros continued, before suggesting that "if we had someone more liberal we could get voters and open up the big tent." She added that social conservatism's blunders like Todd Akin give the Democrats an opportunity to make Republicans look bad.
Liberal co-host Bob Beckel surmised that Rand Paul's newfound hero status among the GOP is a sign that "the bench for the Republicans, which we kept talking about as being mighty strong, is not nearly as strong."
Conservative Eric Bolling chimed in that his problem with libertarians is "the whole thing about smaller military." His compromise was to come out in favor of Chris Christie for 2016, noting that he likes his "big personality."
Watch below, via Fox:
— —
>> Follow Andrew Kirell (@AndrewKirell) on Twitter
Have a tip we should know? tips@mediaite.com