Fox's The Five Attacks CNN And MSNBC Hosts For 'Obsessing' Over Rubio's 'Water-Gate'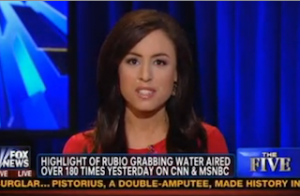 Fox News' The Five went directly after cable news competitors CNN and MSNBC during their discussion of Sen. Marco Rubio's instantly viral "water-gate" moment, in which he reached off-screen during his GOP State of the Union rebuttal to take a hasty drink out of a mini Poland Springs bottle.
Since the moment aired nationally Tuesday night, it has been parodied by Jon Stewart, Stephen Colbert and even Rubio himself. And, according to The Daily Caller, MSNBC has replayed the moment 155 times on Wednesday alone, while CNN played it 34 times (including asking if it was a "Career Ender?") and Fox News only aired it 12 times.
After playing some of the greatest hits from the "mainstream media's" latest "obsession," Andrea Tantaros kicked off the panel discussion by asking, "Is this just a big distraction because Rubio's a rising star?"
Well, this is also a great way not to learn any policy that you have to talk about so that you could just talk about Marco Rubio," Dana Perino said. "If he hadn't taken that drink of water, I would bet you money that they wouldn't have even talked about Marco Rubio for more than 20 seconds."
Tantaros pointed out that Rubio has been able to use the moment to his advantage, gaining hundreds of new Twitter followers and fundraising by selling Rubio-branded water bottles.
Eric Bolling singled out "Al 'Not So Sharp' Sharpton" for dwelling on "water-gate" and "zero dark thirsty." "He spent more time talking about Rubio's water issue than Benghazi," Bolling said. "That is scary and sad." But he also thought that Rubio could have avoided the whole "awkward" situation by just having a conveniently-placed glass of water. Just for fun, the group pulled out an old clip of Sharpton having a little meltdown on air.
For his part, Bob Beckel called the issue "much ado about nothing." Though he did convince the panel that the opposition party response to the State of the Union tends to do more harm than good to the person delivering the message and it may be time to retire the tradition for good.
Watch video below, via Fox News:
—
>> Follow Matt Wilstein (@TheMattWilstein) on Twitter
Have a tip we should know? [email protected]