Fox's The Five Piles on 'Punk' Conservative Activist for Harassing Lois Lerner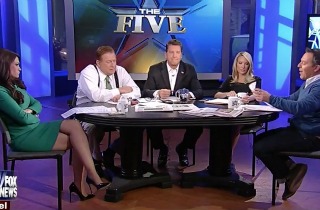 It'll be a cold day in hell when any conservative feels sympathetic towards former IRS official Lois Lerner. Well, someone tell Satan to crank up the AC, because Fox News host Greg Gutfeld said today he watched something that actually made him feel sorry for Lerner. And what was this miraculous video? Conservative activist Jason Mattera harassing Lerner outside her house.
Mattera confronted Lerner about IRS political targeting, and Lerner tried to walk over to her neighbors' house to get away from him. Gutfeld said, "It takes a special gift to make the least sympathetic bureaucrat on the planet look sympathetic. Seriously, that made even me feel bad for Lerner, and I can't stand her."
The only host that attempted a defense of Mattera was Eric Bolling, but even he couldn't really defend his tactics in this video. All Bolling said is that Mattera's a good conservative activist who's trying to deal with people's frustrations about the IRS. Gutfeld said that ideology shouldn't give anyone an excuse to be that rude.
But of all five hosts, the best reactions came from Bob Beckel, who repeatedly called Mattera a "punk" and a "coward." He even challenged Mattera to a fight and ended the segment by saying, "Bring a knife, punk!"
It's worth pointing out that Sean Hannity played the video on his Fox show this week, had Mattera himself on, and praised him for what he did.
Watch the video below, via Fox News:
And you can watch the Mattera ambush below, via Daily Surge:
[image via screengrab]
— —
Follow Josh Feldman on Twitter: @feldmaniac
Have a tip we should know? tips@mediaite.com
Josh Feldman - Senior Editor