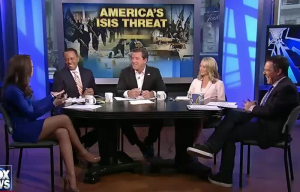 The hosts of Fox News' The Five piled on all the critics of Pamela Geller's "Draw Muhammad" cartoon contest today, but somehow overlooked the fact that two of the most prominent critics were their own colleagues.
Yes, last night both Greta Van Susteren and Bill O'Reilly both scolded Geller and her group for what he perceived as her intentionally poking the hornet's nest. Van Susteren was bothered by how this put law enforcement in danger, and O'Reilly called the provocation "stupid" and unnecessary.
And it's not like The Five hasn't brought up comments of O'Reilly's they've disagreed with before. It's not quite on par, but back in December, they played video of O'Reilly's comments about violent Ferguson protesters, and Dana Perino disagreed with his comments and said he overreacted. (O'Reilly ended up confronting her on the matter.)
RELATED: Pamela Geller Fires Back at Garland Mayor, Critics: 'Giving a Pass to the Savages'
But in contrast with Megyn Kelly, who rather prominently displayed O'Reilly's commentary before rebutting it, neither what O'Reilly nor Van Susteren said made it into the Five segment today.
Now, Eric Bolling did bring up two specific names at one point: Donald Trump and Larry Wilmore. And he came the closest to allude to the comments by his colleagues when he said he found it "surprising" who some of Geller's critics have been.
Greg Gutfeld, meanwhile, called Geller a "self-promoting pain in the rear" but staunchly defended her free speech rights. And beyond that, he didn't understand how the contest was "provocative," because it was a "private event" and not "in-your-face."
Watch the full segment below, via Fox News:
[Image via screengrab]
— —
>> Follow Josh Feldman on Twitter: @feldmaniac
Have a tip we should know? tips@mediaite.com
Josh Feldman - Senior Editor