Fox's The Five Takes On Day 1 Of CPAC And Say Which GOP'ers Have Them Most Excited (And Scared)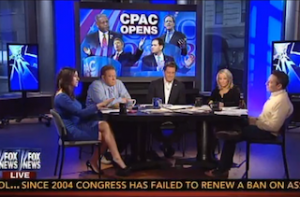 Thursday afternoon, Fox News' The Five took on the first day of the Conservative Political Action Conference or CPAC, which featured speeches by rising GOP stars like Senators Marco Rubio (R-FL) and Rand Paul (R-KY). The conference notably left out more moderate Republican voices such as Governors Chris Christie (R-NJ) and Bob McDonnell (R-VA). Greg Gutfeld summed up the annual event fairly well when he said, "it's not for conservatives really now. It's for the media to make fun of conservatives."
Eric Bolling didn't appear to have any problem with CPAC leaving Christie and McDonnell out, but there was one name on the speakers list that did stand out to him. "Mitt Romney, no offense, don't hate me for this," Bolling said, "it just didn't fit for me."
As for predictions on who will win the CPAC straw poll on Saturday, Bob Beckel said he is "willing to wager any amount of money" that it will be Rand Paul. And after the enthusiasm that greeted his speech earlier today, that seems like a fair assumption. Dana Perino argued that the winner of CPAC straw poll almost never goes on to win the Republican presidential nomination, so the importance of that honor, especially this far from 2016, may be insignificant.
Regardless of its overall importance, Perino's assertion was not factually accurate. Just looking at the last four years, Mitt Romney won the CPAC straw poll in 2009 and 2012 (after also winning it in the two years leading up to the 2008 election). Rand's father former Rep. Ron Paul won in 2010 and 2011, so there is some family legacy there that could help Rand out this year.
Going around the table, the hosts made their picks for who their favorite conservative of the moment is. Bolling picked Sen. Ted Cruz (R-TX), Gutfeld, singled out Sen. Pat Toomey (R-PA), Andrea Tantaros went with Gov. Scott Walker (R-WI) and Perino declined to name any specific figure. As for the Republican that has liberal host Beckel the most "scared?"
"Rand Paul is the one guy that worries me very much and most Democrats," Beckel answered. "In fact, there is some real fear the guy could actually take off." His colleagues weren't buying that he was being sincere, but there is some truth to what Beckel was saying. If there's one Republican who's riding high from his filibuster and now CPAC, it has to be Rand Paul.
Watch video below, via Fox News:
—
>> Follow Matt Wilstein (@TheMattWilstein) on Twitter
Have a tip we should know? tips@mediaite.com