Fox's The Five Takes On Liberal Treatment Of 'Token' Black GOP'ers Like Allen West And Tim Scott
The Five
Takes On Liberal Treatment Of 'Token' Black GOP'ers Like...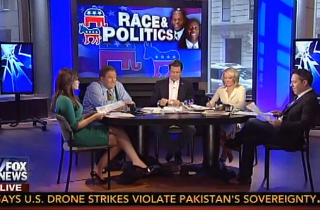 On Fox's The Five this afternoon, the panel went off on the liberal treatment of "token" black Republicans like former Rep. Allen West and Sen. Tim Scott (R-SC), with ringleader Eric Bolling exclaiming that conservatives really shouldn't care what liberals think of black Republicans at all.
Citing West's and Scott's respective CPAC speeches, co-host Greg Gutfeld summarized how "liberals have problems with race," adding that "if you work at The New York Times, "you'd call them 'tokens'" because they are black people who "don't act the way you want a black guy to act."
He also bemoaned that one of his co-workers often likens him to "Bull Connor," a notorious segregationist, but, as Gutfeld remarked, "the thug was a Democrat… and Democrats supported slavery and opposed amendments to wipe it out. They were pro-segregation. Created Jim Crow. They had a former clansman as a top senator and used the KKK as their cudgel. The media rarely ever brings that up."
"West and Scott have to remind black America the abusive relationship they endureed for so long" with Democrats, Gutfeld added. "They may not be in the back of the bus anymore. They're just under it."
His co-host Kimberly Guilfoyle heartily agreed, calling the monologue "hard-hitting" before explaining her own belief that the GOP can attract minorities by "being for the education of children, not just in public schools."
Lone liberal co-host Bob Beckel added that if Republicans truly believe they have a message to sell to minorities, then they should actually try and take their opinions to those communities.
Bolling, however, took a slightly different tone from his fellow conservatives: "It's a little dangerous to … bring up the race card in this setting. Isn't that what they are supposed to not be doing? It's not the color of your skin that matters with the policy and the size of government? It matters what happens."
"Tell that to a guy who's been called 'Uncle Tom,'" Gutfeld shot back.
"Allen West epitomizes everything that a conservative is," Bolling explained. He dismissed the notion that anyone needs to care about West's race when analyzing his beliefs.
"Who care what the other side does!" he exclaimed after Gutfeld presented a clip of West decrying liberal treatment of black conservatives. "I stand for smaller government. I stand for less spending, keeping more of your own money. Forget the color of my skin," he suggested black conservatives should say.
Bolling later added: "With Mia Love, Ted Cruz, Marco Rubio, Scott, on down the line, I think young people will realize Republicans don't care about the color of the skin."
Watch below, via Fox:
Have a tip we should know? tips@mediaite.com