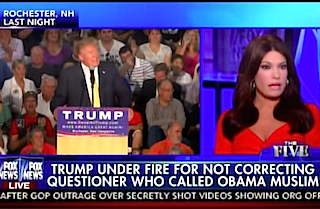 Do the hosts of Fox News' The Five really find it that hard to believe that a man attending a Donald Trump rally could believe that President Barack Obama is non-American Muslim?
During a discussion of the incident that occurred on Thursday at a Trump town hall in New Hampshire, in which the GOP frontrunner refused to correct a supporter who not only spread false rumors about the president but also called for the eradication of Muslims from the United States, both Kimberly Guilfoyle and Eric Bolling implied that the man in question was a "plant" or somehow not serious about his views.
"As far as Trump's concerned with respect to this, I think that seems like a complete plant, it was a set up, it just sounds fake and phony and ridiculous," Guilfoyle said of the man's comments.
"It's a joke, right?" Bolling agreed. "It's almost comical the way it was delivered."
To Guilfoyle's credit, she did say Trump "had a chance to correct the record" and say "listen, you don't say that about the president of the United States," but instead moved on, something she said showed he's not "on his A game."
"I'm not sure if was a plant," Dana Perino said, disputeing her co-hosts' suggestions. "I mean, maybe it was a joke," she added, before saying that when you look at the social media commentary Trump generates, "this is repeating things you see online all the time."
"Whether it's a plant or not, he had to be able to respond to it," Greg Gutfeld argued. "Why was he incapable of responding to it?" Since Trump is running as a "pundit" and not a politician, he said the candidate followed his instincts to not "denigrate" one of his fans.
Watch video below, via Fox News:
[Photo via screengrab]
— —
>> Follow Matt Wilstein (@TheMattWilstein) on Twitter
Have a tip we should know? [email protected]