The Five Trashes Michael Moore For Saying Gun Owners Motivated By Racial Fears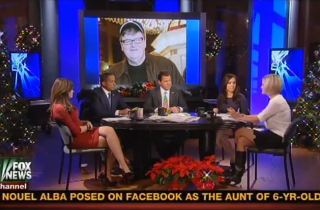 After liberal documentary filmmaker Michael Moore suggested this week that people are motivated by racial fears when purchasing firearms, Fox News' The Five went after him, suggesting that it's actually liberal anti-gun activists like Moore who strikes fear in the heart of gun owners.
Co-host Andrea Tantaros started off the pile-on by saying that Moore's remarks were "beyond the pale" and he "loses credibility" on the gun issue.
Kimberly Guilfoyle added that she finds Moore "insufferable," and that his remarks prove him to be "part of the problem — a divider, not a uniter."
She continued: "He is putting down the country. Not a positive thing to say about Americans at all. He makes us sound like the worst country, the most corrupt and racist. Move! Bye, Michael, if you hate so it much!"
Liberal co-host Juan Williams even took issue with Moore's comments, calling them "unnecessary" for introducing a racial element to the conversation that "allows people to ignore the reality" that gun control originated as a white effort to prevent black gun ownership.
But Eric Bolling took the cake for least subtle trashing of Moore's anti-gun remarks, saying: eric:
"Michael Moore is wrong. White people who own guns aren't afraid of freckle-faced Jimmy down the block. White people who own guns aren't afraid of black people breaking in or holding them up. White people are afraid of moron liberals like Michael Moore who think they will get their guns taken away because they have a liberal Democrat in office. So they make sure they go out and buy guns before the idiots take it away.
The conversation also focused on actor Matt Damon who said he is giving up on Washington, D.C., because of its corrupt, "rigged" nature. A baffled Guilfoyle asked "What happened to him? He used to be somewhat normal and cool." She claimed that Damon has become very "liberal and bizarre."
Fill-in co-host Juliet Huddy dismissed her colleague's assessment: "He's fine."
Watch below, via Fox:
— —
>> Follow Andrew Kirell (@AndrewKirell) on Twitter
Have a tip we should know? tips@mediaite.com