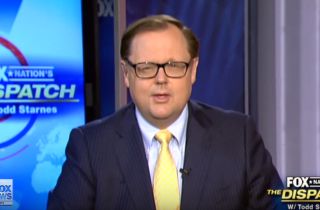 All is apparently not well in the sweaty basement troll division of Fox News: Todd Starnes is unhappy with his own network's superstar Megyn Kelly and her tough questions for the Republican presidential candidates.
Kelly and her co-moderators, Bret Baier and Chris Wallace, have already taken substantial heat from Donald Trump and his followers over what they perceived to be "gotcha" (read: tough) questions about the candidate's contradictory policy positions and lack of actual substance.
Starnes echoed that sentiment Thursday evening but also seemed to suggest that the panel needed a "true" conservative asking real questions (read: softballs) about Mexican rapists, Obama's secret Muslim beliefs, and the plot by the blacks to destroy America and kill all the cops.
When Kelly asked Walker about abortion law exemptions for cases in which the mother's life is at stake, Starnes expressed his disgust:
Megyn Kelly: "Would you really let a mother die rather than have an abortion?" Are you freaking kidding me? #GOPDebate

— toddstarnes (@toddstarnes) August 7, 2015
That abortion question — disgusting. #GOPDebate

— toddstarnes (@toddstarnes) August 7, 2015
And when another social issue came up, Starnes was unhappy that the question wasn't "What would you do about the new fascist threat in the gaystapo?"
And here comes the gay marriage gotcha section….#GOPDebate

— toddstarnes (@toddstarnes) August 7, 2015
But he wasn't done there. Friday morning came, and Starnes borrowed some poor cameraman and control room ops team's time to film a one-minute video subtly taking more jabs at Kelly while reassuring his fans that, yes, you've still got a "friend" at Fox News. It's me, Todd Starnes! The true conservative. Enjoy:
— —
>> Follow Andrew Kirell (@AndrewKirell) on Twitter
Have a tip we should know? tips@mediaite.com