Fox's Wallace Challenges AL Justice Moore: 'When the Supreme Court Rules, It Rules'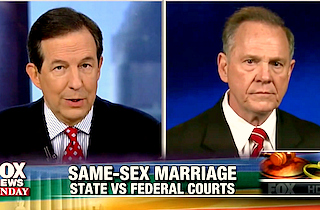 Controversial Alabama Chief Justice Roy Moore, who has ordered probate judges in his state to ignore a Supreme Court ruling allowing same-sex marriages to go forward over the state's constitutional ban, battled Fox News Sunday's Chris Wallace Sunday morning over whether he within the law to dissent from the Supreme Court, both now and in the event that the court allows same-sex marriage nationwide in a ruling anticipated later this spring.

"When federal courts start changing our Constitution by defining words that are not even there, like marriage, they're going to do the same thing with family in the future," Moore declared. "When a word's not in the Constitution, clearly the powers of the Supreme Court do not allow them to redefine words and seize power. Powers not delegated to the United States by the Constitution nor prohibited by it to the states, are reserved to the states respectively or to the people. This power over marriage which came from god under our organic law is not to be redefined by the United States Supreme Court or any federal court."
Moore responded to a comment from President Barack Obama earlier this week that federal law overrules state law.
RELATED: Chris Cuomo Battles AL Justice Roy Moore in Epic 25 Minute Interview on Gay Marriage
"I'd like to tell President Obama that he's entirely correct, federal law does trump state law," Moore said. "But what this Harvard professor who is president of the United States does not understand, is that a trial court's decision on the constitutionality of a federal question is just that — it's an opinion. It may be law of the case before her. It is not overturning the Alabama constitution. Federal law is not made by judges."
Wallace accused Moore of being "a little fuzzy" on whether state judges would have to adhere by a SCOTUS ruling in favor of allowing same-sex marriage. Moore again cited the Supreme Court's 1857 Dred Scott fiasco, a favorite crutch of gay marriage opponents.
"State courts are bound by the ruling of the Supreme Court," Moore replied. "But when a strict interpretation of the Constitution…is abandoned in the theoretical opinion of individuals are allowed to control its meaning, we have no longer a Constitution. We're under the government of individual men who for the time being declared what the Constitution is according to their own views."
"But when the Supreme Court rules, the Supreme Court rules," Wallace concluded.
Watch the clip below, via Fox News:
[Image via screengrab]
——
>> Follow Evan McMurry (@evanmcmurry) on Twitter
Have a tip we should know? tips@mediaite.com