Fox's Wallace Gets Fed Up Questioning Senators on ObamaCare: 'I'm Trying to Stop the Rhetoric'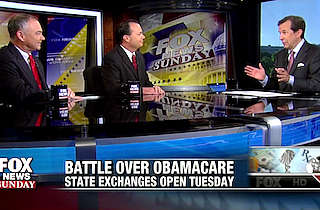 Fox News Sunday host Chris Wallace got to the end of his rope with Senators Mike Lee (R-UT) and Tim Kaine (D-VA), as Wallace tried to interview both men on the real-world effects of the Affordable Care Act and each yanked the discussion back to the political battle over its funding in Congress.
"I agree we should have this debate, but we shouldn't connect it to a government shutdown," Kaine said.
"I want you to answer my question," Wallace said, "because this goes into effect whether we have a shutdown or not."
Kaine then did rebut Wallace's worry that the ACA exchanges would kick people off their current coverage. "The news about the exchanges is the number of options is so great, you're going to have all kinds of options," Kaine said.
"The facts just don't back that up," Lee said, but quickly pivoted onto the "train wreck" talking point, which led Kaine to try to rebut it, which led Wallace to throw up his hands, literally.
"I'm trying to stop the rhetoric," Wallace said. "I want to get to the specifics…It's like herding cats here today."
"We are senators," Kaine said, though he then went on to answer Wallace's question about rising premiums. "Again, very important questions," Kaine said. "But we shouldn't be wrapping these questions up with a threat of government shutdown."
"We've talked about that," Wallace said. "I want to talk about ObamaCare."
"I'm going to keep bringing it back," Kaine said, "because there's only one side that is linking ObamaCare with the shutdown of government."
"I think you've made that point," Wallace said.
Watch the full segment below, via Fox News:
[Image via screengrab]
——
>> Follow Evan McMurry (@evanmcmurry) on Twitter
Have a tip we should know? tips@mediaite.com