Fox's Wallace Grills Ezekiel Emanuel on Obamacare Enrollment, 'If You Like Your Doctor' Pledge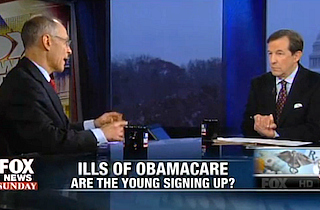 Fox News Sunday host Chris Wallace and Ezekiel Emanuel had themselves an interruptathon Sunday morning, as the two battled over the improved Affordable Care Act website and the remaining problems with inaccurate insurance enrollments and narrowed network coverage.
The two spent a good deal of time arguing about the percentage of young adults projected to sign up through exchanges. The Congressional Budget Office projected that the law would need about 39% young enrollees to have a balanced risk pool and avoid rising premiums. Emanuel pointed out that in California, where the functional state exchange has produced parseable data, the youth enrollment matches the population.
"In California, when they look at the number of enrollees and broke them down by age, the number of young adults, 18-34, matched the population in California, and that's exactly what you want to be seeing," Emanuel said. "That's not a poll, that's actual signing up."
"In California, the pool so far is only 23%, barely half of the 39% you need to have the right mix," Wallace countered. "So your California example is completely wrong!"
Emanuel objected that the administration had been delayed in its promotional efforts by the faulty website.
"I understand that the Obama campaign slogan was hope," Wallace said. "But at this point that's all you seem to have that 39% are going to sign up."
Wallace then grilled Emanuel on President Barack Obama's pledge that "if you like your doctor, you can keep your doctor."
"He didn't say you can have unlimited choice!" Emanuel protested. "If you want to pay more for an insurance company that covers your doctor, you can do that. This is a matter of choice. We know in all sorts of places, you pay more for a wider range of choices, or a wider range of benefits. People are going to have a choice as to whether they want to pay a certain amount for a selective network, or pay more for a broader network."
"Which means your premium may go up," Wallace said.
"No one guaranteed you that your premium wouldn't increase."
"The president guaranteed me that I could keep my doctor," Wallace said.
"And if you want to, you can pay for it," Emanuel responded. "Choice is something we all understand. And we all understand that for more choice, more benefits, we all have to pay more."
Watch the clip below, via Fox News:
[Image via screengrab]
——
>> Follow Evan McMurry (@evanmcmurry) on Twitter
Have a tip we should know? tips@mediaite.com