Fox's Wallace Grills Liz Cheney on Obamacare, Starting 'Family Feud' in Wyoming GOP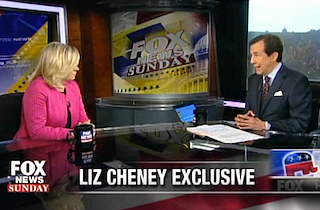 Fox News Sunday host Chris Wallace interrogated Wyoming Senatorial candidate Liz Cheney about her criticisms of incumbent (and her father's "fishing buddy") Mike Enzi (R-WY), how she would have fought the Affordable Care Act, and whether she had started a "family feud inside the Wyoming Republican Party."
Wallace noted Cheney's criticism that Enzi had been part of the original "Gang of Six," a bipartisan committee on health care that met on an early version of Obamacare, but added that he ultimately disagreed with the final product and voted against it. "Isn't that what legislating is about?" Wallace asked.
"Legislating is about knowing where to draw the line," Cheney said. "When the president of the United States walks into the room and says, 'Hey we're going to impose this massive new federal program, we're going to take over a sixth of the economy,' Senator Enzi's response is essentially to say, 'All right, let's negotiate about that. ' The right response would have been 'Absolutely not, under no circumstances.'
RELATED: Cheney to Stephanopoulos: GOP 'Got Whipped' in 2012, Time for 'New Generation'
"Frankly, if all of the Republicans had done that at the beginning, had stood their ground and refused to negotiate, to compromise on this, we probably wouldn't be where we are today," she continued. "Instead, you had Republicans like Senator Enzi, who gave the president cover and the ability to say this was a bipartisan effort, when it was never intended to be. They got used."
Wallace countered that since Obamacare passed without a single Republican vote, Cheney as Senator would not have made much of a difference.
"It's not just about voting, it's about whether or not the Republicans have a new generation of leadership, new voices to stand up and mobilize people on our side to begin to roll this back," Cheney replied. "If we're ever going to begin to change the fact that the Democrats have the majority, we gotta get a new generation elected on our side."
Watch the clip below, via Fox News:
[Image via screengrab]
——
>> Follow Evan McMurry (@evanmcmurry) on Twitter
Have a tip we should know? tips@mediaite.com