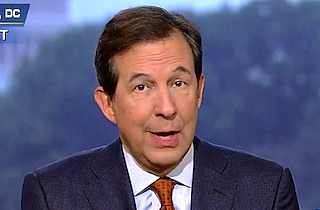 Chris Wallace made his first appearance on Fox & Friends since new co-host Elisabeth Hasselbeck joined the crew ("What are you doing with those two guys?") on Friday morning and harshly criticized Senator Ted Cruz (R-TX) and his GOP allies in Congress for making the fight over ObamaCare "easy" for Democrats by overplaying their hand.
"This is why some people are mad at Ted Cruz," Wallace explained. "They say instead of the pressure being on the Republicans, it should be on those four red state Democrats who are up for election in November of 2014. They say put the pressure on them."
Brian Kilmeade asked if Wallace placed any importance on Senator Joe Machin's (D-WV) suggestion to delay the individual mandate for a year as part of a budget compromise.
RELATED: GOP Sen. Fights Cruz on Senate Floor: Why Did You Vote For Something You Spent 21 Hours Filibustering?
"That was the problem with this current plan," Wallace said. "They made it too easy on the Democrats to say no by saying, 'Let's defund ObamaCare.' I can understand where people may want that, but it was easy for the Democrats to say that's unacceptable.
"If you go over a specific thing that's not very popular, like delaying the individual mandate, or getting rid of the tax on medical devices, or saying to members of Congress and their staff, no, you're not going to get a subsidy that nobody else that makes the kind of money you do would get to go into the public exchanges—that's the kind of thing that becomes a really tough vote. Saying 'Kill ObamaCare' is kind of an easy vote for most Democrats."
Watch the full segment below, via Fox News:
[Image via screengrab]
——
>> Follow Evan McMurry (@evanmcmurry) on Twitter
Have a tip we should know? tips@mediaite.com