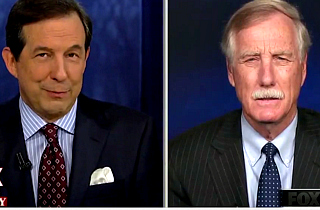 On Fox News Sunday, host Chris Wallace battled with Senator Angus King (I-ME), an independent who often caucuses with Democrats, over the Affordable Care Act enrollment figures, which are reportedly surging in advance of the March 31 kinda-sorta deadline. King said that the sign-up total had risen to 6.5 million, and that the enrollees were skewing younger by the day.
"I checked the numbers this morning," King said. "It is now 6,563,000. There were with 500,000 people on the call centers on Friday, and a million and a half on the website…So there really is a huge surge. Number two, WellPoint, which is one of the big insurance companies, said a couple weeks ago that the signups are getting younger by the day. In other words, young people, not surprisingly, are the last people to sign up. I suspect that's who is signing up to day and tomorrow. So the data is making a lot of difference."
RELATED: Sen. Barrasso: Admin 'Cooking the Books' on Obamacare Numbers
"What about the number that are uninsured, which is a quarter, and what about the number that haven't paid, which is also about a quarter?" Wallace asked.
"The McKenzie & Company did that 25% uninsured [study]," King replied. "The only real numbers we have are from New York and Kentucky. In Kentucky at 75% of the people signing up were previously uninsured. In New York, 59%. So, those numbers are going to sort themselves out over time."
"But, there is no denying it, they're going to make that 7 million target, which was set a couple years ago," King continued. "Two months ago, if you asked me I would have said there's no chance because the rollout was so bungled."
Watch the clip below, via Fox News:
——
>> Follow Evan McMurry (@evanmcmurry) on Twitter
Have a tip we should know? [email protected]