Fox's Wallace Tests Christie's Conservatism With 'Lightning Round' on Gun Control, Immigration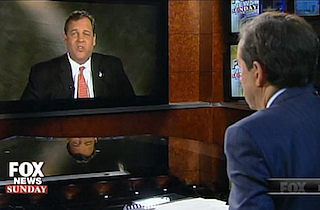 Newly reelected New Jersey Governor Chris Christie, fresh from his dominating win last Tuesday, spoke to Fox News Sunday's Chris Wallace in a wide-ranging interview about how Republicans can win in blue states, what he thinks of his critics, and whether he could survive a GOP primary to become the Republican nominee for president.
Though Christie denied his desire to begin campaigning for 2016 first thing this morning, Wallace reminded him that if he wanted to be the GOP's nominee, he first had to pass through the Republican primaries, where some of his less conservative stances may cost him among a more right-leaning electorate. Wallace submitted Christie to a "lightning round" on current issues to test his conservative credentials, making Christie answer (or not answer) questions on a path to citizenship and gun control.
Christie affirmed that he was eager to fix a broken immigration system, though he did not comment on the path to citizenship, and also said he was for "violence control," with a focus on mental health reform, to curb gun violence. He noted he had signed some gun control measures as governor, but vetoed others.
"We need to not pander on these issues," Christie said. "We need to have adults in the room who make decisions based upon controlling violence in our society."
Wallace also quoted both Christie's criticism of Senator Ted Cruz's (R-TX) government shutdown, and Senator Rand Paul's (R-KY) criticism of him.
"I'm not going to get into the Washington, D.C. game that you're trying to get me into," Christie said. "I'm focused on getting things done, and I think that's why we got 61% of the vote. I'll work with anyone and everyone who is willing to work with me on my principles…The rest of this stuff is just the game people play in Washington, which is why people hate Washington, D.C."
Watch the full clip below, via Fox News:
[Image via screengrab]
——
>> Follow Evan McMurry (@evanmcmurry) on Twitter
Have a tip we should know? tips@mediaite.com