Fox's Wallace to Ben Carson: After Vaccine Debate, Is GOP the Science Denialism Party?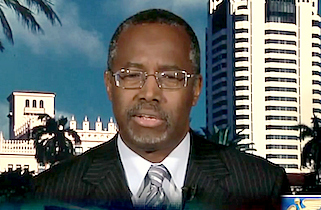 After a week in which vaccinations suddenly exploded from a bipartisan fringe hobby to a wedge issue for the GOP 2016 class, Fox News Sunday host Chris Wallace asked Dr. Ben Carson — whose statements on the subject this week have been somewhat erratic — whether he thought the Democrats had a point about the GOP being the science denialism party.
"You are talking about this in a very clinical scientific way, as a noted brain surgeon would," Wallace said. "Some Democrats say there's some elements in Republican Party, both candidates and voters, who deny science, whether it is vaccinations, or climate change, or evolution. Do you think that criticism is fair?"
"No, it's not fair at all," Carson said. "It's not a partisan issue. You look in California, the places where outbreaks have occurred are largely blue areas, Democratic areas where people have said they don't need them anymore. The reason they think they don't need them anymore is because we've had such an effective vaccination program, you're not seeing diseases. But now that you're getting large pockets of people who are not vaccinated, the opportunity exists to reintroduce the disease. It's not a Democrat or Republican issue at all."
Carson was one of the first GOP figures to come out in full-throated support of vaccines after comments by Chris Christie and Rand Paul. He later tried to leaven those comments, including statements blaming the recent measles outbreak on "undocumented people," after they appeared as part of a rift in the GOP.
Watch the clip below, via Fox News:
[Image via screengrab]
——
>> Follow Evan McMurry (@evanmcmurry) on Twitter
Have a tip we should know? tips@mediaite.com