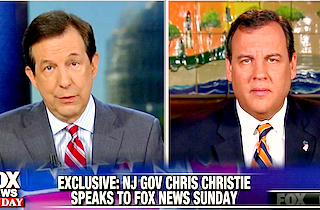 Following comments by New Jersey Governor Chris Christie in which he said he was "tired" of debating the minimum wage, Fox News Sunday host Chris Wallace asked if it was such a good idea to be so "cavalier" about working peoples' wages.
"Not being cavalier at all," Christie replied. "I'm saying it exactly as I see it. What we need to do in this country is not have debate over a higher minimum wage. We have to have a debate over creating better-paying middle class jobs in the country. If that somehow doesn't comport with what people in the political elite want, well, I'm sorry."
RELATED: Gov. Christie: GOP Has to Win Governors Races to Control 'Voting Mechanisms'
Critics have argued that the minimum wage has stagnated over the past three decades to the point that it is impossible to live on. But Christie said to the Chamber of Commerce last week that no family was sitting around pining for a raise in the minimum wage to make their dreams come true, but rather that they needed better paying middle class jobs.
"There's just not income inequality in this country," Christie said. "The bigger problem is opportunity inequality. And that's what mothers and fathers are sitting around kitchen tables talking about wanting for their children's future. And that's exactly what I was saying at the Chamber of Commerce. And I don't back off from those comments one inch."
Watch the clip below, via Fox News:
[Image via screengrab]
——
>> Follow Evan McMurry (@evanmcmurry) on Twitter
Have a tip we should know? tips@mediaite.com