Fox's Wallace to Lindsey Graham: Are You Too Moderate to Win GOP Nomination?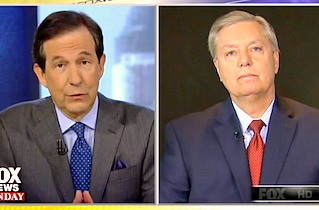 Fox News Sunday host Chris Wallace sounded skeptical of a 2016 Lindsey Graham GOP nomination Sunday morning, asking if Graham's "moderate" stance on non-defense issues was the reason he was polling at fourth even in his home state of South Carolina.
Graham, who hasn't declared but told Wallace was 91% sure he was running, is the hawkiest hawk in the Senate but willing to buck his party on issues such as immigration and climate change.
"If I'm on the ballot, I'm gonna win South Carolina," Graham said. He added: "I believe that climate change is real, but I reject the cap and trade solution of Al Gore. He's made it a religion; I think it's a problem."
Graham went so far as to tell rival candidate Senator Marco Rubio (R-FL) to back off from appealing too much to the party's conservative base, noting that Rubio had stuck his neck out on comprehensive immigration reform only to back off after criticism from the GOP's right flank.
Wallace also asked Graham about an profile in the Washington Post detailing the loss of his parents during college, which then required him to raise his younger sister, noting that some believed that was the reason he never married.
"It made me realize that the promise of tomorrow is just a promise," Graham said. "That I assumed things early on that I never assumed again…What it old Lindsey Graham above all else is that family, friends, and faith really do matter…and I'm trying my best to pay back a country who's been so good to me."
Watch the clip below, via Fox News:
[Image via screengrab]
——
>> Follow Evan McMurry (@evanmcmurry) on Twitter
Have a tip we should know? tips@mediaite.com