Fox's Watters: If You're Offended by Trump's Name 'You're an Illegal Immigrant or a Total Sissy'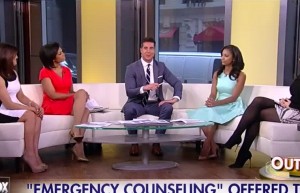 Leave it to Bill O'Reilly henchman and part-time UFO enthusiast Jesse Watters to weigh in on the Trump-division debate with just the right amount of levity and borderline crassness.
Watters was the #OneLuckyGuy — a social media distinction that the minds of Fox's Outnumbered give to the one man subjected to who appears as guest each day — on Thursday's episode. The matter at hand was a ridiculous one, in fact: the silly "emergency counseling" support that Emory University has set up for students who become panicked after seeing a wave of "Trump 2016" chalk markings on campus ("we are in pain!" protested the students. Oof.).
The optics of a bunch of PC-crazed college students crying foul at something as truly stupid as the word "Trump" written in schoolyard chalk aside, Watters has a unique ability that serves his role at Fox News well. Jesse Watters' talent — some might call it a superpower — is to meet ridiculousness in the world and expose it with brash, over-the-top snark that leaves many viewers with the urge to kick the handsome Watters square where the chalk don't shine. Exhibit A from Thursday's Outnumbered:
"If you're afraid of the name 'Trump', you're either an illegal alien or you're a total sissy. Either way, you shouldn't be on college campuses," said Watters.
The man makes some good points, specifically about the "sissy" element of a lot of the kids today in college. I actually agree with Andrea Tantaros (never a sentence I thought I'd write in this space) when she followed up Watters' take with "It's a generation of wimps!". Great, it's a fair point Outnumbered, if not one that you make every single day.
But Watters' swipe that "illegal immigrants are afraid of the name Trump'" is a pretty sophomoric stab to appeal to the base demo of Outnumbered. "Oh YEAH!" universally cheered the scores of Americans sitting at home at 12:50 p.m. on a Thursday watching Watters with glee. "That's it! Stick it to 'em, Jesse! Those illegals are SO scared of Trump! We need more TRUMP! Make America Great Again!"
If my prediction is correct that throngs of Fox viewers melted all over Watters' assessment of undocumented workers, it would seem as if Trump has lived up to his word that he does, in fact, resonate with the poorly educated.
Check out the above clip from Fox News' Outnumbered, but proceed at your own risk.
This is an opinion piece. The views expressed in this article are those of just the author.