Fracking Advocate: I Underwent 'Three Hours of Media Waterboarding' by The Daily Show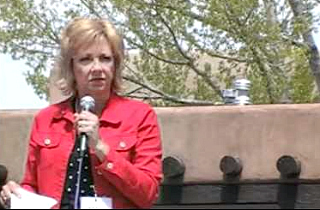 After taping a sit-down interview with The Daily Show, a prominent natural gas advocate divulged details of the experience, claiming she underwent "three hours of media waterboarding" by the show.
Marita Noon is the executive director for Energy Makes America Great Inc., and has long been an advocate for hydraulic fracturing, a method of natural gas extraction widely known as "fracking." Last month, The Daily Show invited her to do one of their pre-taped, edited segments.
-RELATED: Peter Schiff Releases Daily Show Email, Accuses Them of 'Lying' to Him
In a column for the Daily Times, she described her initial hesitance and the ensuing experience with an unnamed correspondent:
I expected that they'd try to spring something on me. Based on the pre-taping interviews, I had a sense of where the interview would go. I studied up as if I was heading in for a final exam. I wanted to be sure they couldn't trip me up.

When I walked into the Daily Show offices, I felt that I was ready.

The interview started straight enough. They asked: "Why do environmentalists hate fracking?" I explained that I didn't think it was really about fracking, as thousands, if not millions, of wells had been drilled using hydraulic fracturing since modern techniques were developed in 1949. I pointed out that a primitive form of fracking was done in the late 1800s when a nitro glycerin torpedo was dropped down a well hole. Despite this long, safe, and prosperous history the frack attacks had started in October 2007—shortly after the technologies of hydraulic fracturing and horizontal drilling were successfully combined and began to unleash America's new energy abundance.
She described how she had surefire answers for most of their questions:
I was asked about fracking accidents. I asserted that there were none that I was aware of and cited the fact that three leading Obama Administration secretaries—hardly fossil-fuel fans—had declared fracking to be safe: former Secretary of Energy Steven Chu, former Secretary of the Interior Ken Salazar, and current Secretary of Energy Ernest Moniz.
But after several hours, she wrote, the interview took a sharp turn:
Now, in hour three of what I told the crew was like three hours of waterboarding where they kept throwing stuff at me in hopes I'd give something up, the tone changed. Suddenly, the correspondent repeatedly asked me about pizza and whether it was appropriate compensation for a "fraccident." I stopped and told them: "I will not say that word." Since I was not aware of any fracking accidents, I wasn't going to let them get me on camera saying "fraccident."
After returning home that day, Noon researched drilling, accident, and pizza, and found the exact story with which she believes The Daily Show had attempted to snag her. A well fire in Greene County, Penn., had allegedly started as a result of a defective wellhead used by energy titan Chevron:
The accident referenced by the Daily Show, took place in a rural area and no homes were ever endangered. But Chevron realized that the increased truck traffic and other activities inconvenienced the folks of Bobtown. In an effort to be a "good partner" in the community, Chevron offered vouchers to the only eatery within 80 miles.

While the locals aren't upset with Chevron for the gesture, saying: "The whole issue was blown out of proportion," comedians have had a field day with it and the anti-fossil fuel crowd is using it for messaging. A petition has been started at MoveOn.org demanding that Chevron apologize for the free pizza—calling it "an insult." There are currently 1200+ signatures, mostly from distant locales, but none from Bobtown. Local resident Gloria Garnek commented on the contrived controversy and the coupons saying: "I think it's a nice thing."
"I'll have to wait to see how the Daily Show turns three hours of media waterboarding into a 3-5 minute segment when it airs in late March or early April," Noon concluded.
[h/t Jordan Bloom]
[Image via EMAG]
— —
>> Follow Andrew Kirell (@AndrewKirell) on Twitter
Have a tip we should know? tips@mediaite.com