Frank Luntz Focus Group Mostly Agrees Obama's Speech Fell Short Of Expectations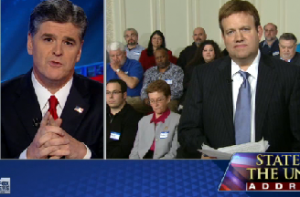 Some polls indicate a positive response to President Obama's State of the Union address, but not everyone was happy with the speech, especially not members of Frank Luntz's focus group on Fox News last night. Words like "empty," "redundant," and "platitudes" were used by some of the focus group members to describe their thoughts about the speech.
Sean Hannity declared the speech was "flat" without any "yes we can magic" and lacked any sense of urgency on debt or unemployment. Luntz asked his group for their opinion and warned "I don't want you to feel under any pressure because of what Sean Hannity just said." Although the panel is always half Republicans, half Democrats, the Obama bashers usually are the loudest and most humorous, as evidenced by one woman attempting to describe Obama's speech with the first word that comes to mind: "Obama conflicting and Ryan was speaking just like every American I meet." She might want to search for some more exciting Americans in her daily life.
Most agreed Obama fell short of their expectations and many did not believe Obama was sincere in his call for bipartisanship. Plus it's always strangely fun to see Luntz sternly yell at his group when they speak over one another and to see him provide a summation of the group's mood. The conclusion here from Luntz was that the speech failed to unite the country, since within his own group, the people were just as divided now as they were before the speech.
Watch the clip from Fox News below:

Have a tip we should know? tips@mediaite.com