Frank Pallone Burned CNN Once, Why is the Network Still Lending Him Credibility?
Rothman: Frank Pallone Burned CNN Once, Why is the Network Still Lending Him Credibility?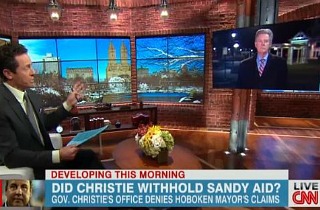 Last week, as the revelations surrounding the closure of two lanes of the George Washington Bridge began to implicate advisors close to New Jersey Gov. Chris Christie, CNN.com previewed what some partisan observers thought would be a deathblow to Christie's future political prospects. The governor, the allegation went, used federal Hurricane Sandy relief funds to promote himself during an election year in televised ads. Indeed, the governor was facing a federal investigation into the misuse of taxpayer funds for personal political gain.

There was just one problem with this story – it was not true. The ads in question were part of a campaign approved of by President Barack Obama's administration and that "federal investigation" turned out to be a routine Department of Housing and Urban Development audit, a rarely issued HUD statement read. The "federal investigation" claim was merely an unsubstantiated charge made by Rep. Frank Pallone (D-NJ), a partisan Democrat who has flirted with running for statewide office for most of his political career.
Having been burned once, it is logical to expect CNN to abstain from elevating Pallone to undeserved prominence. That assumption has been shown to be unfounded.
RELATED: Oops: That 'Federal Investigation' of Christie's Sandy Recovery Ads Was Just a Routine HUD Audit
Appearing on CNN's New Day on Monday, Pallone took the scandal surrounding Christie to its ultimate conclusion. In spite of the fact that he lacks any evidence that the governor has been personally involved, or that New York Gov. Andrew Cuomo pursued a largely similar post-Sandy recovery strategy which was also approved by federal overseers, Pallone joined CNN once again to say that federal investigators should be looking into the charges against Christie.
"This is a whole issue of abuse of power and what I call a culture of corruption," Pallone said after being introduced by anchor Chris Cuomo as a representative who is merely "calling for" a federal investigation into Christie's use of Sandy relief funds.
Pallone went on to join CNN anchor Wolf Blitzer to repeat his position that the "culture" of the Christie administration led to abuses of power. Here, the Democratic lawmaker defended his initial claim about the suspect advertisements.
"I believe that what happened with the TV commercials, that — where the governor said, you know — or his administration said, 'You know, you put me in the TV ads and I'll take t higher bidder, essentially,'" Pallone alleged. "And these are serious allegations that have to be looked into."
Credibility be damned, Pallone gives good television. He's one of the few people on earth who could turn a staid and sober congressional committee hearing on C-SPAN into a must-see clip, but his history suggests that he is not a credible source for information. When the choice became weighing the prospect of being burned again and getting some more entertaining television out of Pallone, however, CNN took the latter.
[Photo via screen grab ]
— —
> >Follow Noah Rothman (@NoahCRothman) on Twitter
Have a tip we should know? tips@mediaite.com