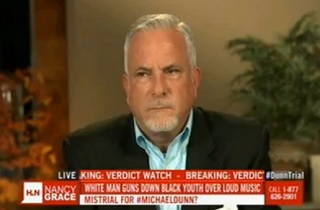 Defender of white men who shoot unarmed black teenagers and frequent HLN guest Frank Taaffe is in danger of losing that very gig now that there's audio of him calling Oprah Winfrey the n-word. But when Taaffe was recently confronted on-air by Nancy Grace about other racist remarks he allegedly made, he blamed the whole thing on an old Twitter feed that was hacked.

As it turns out, Grace's research was a little off: Taaffe made those comments out loud on his podcast just last September.
Now that Taaffe's racial rhetoric has been fully and completely outed, HLN might be tempted to plead ignorance, but on Friday's Nancy Grace, the eponymous host confronted Taaffe with chapter-and-verse RAF™ commentary, and promptly swallowed the 21st century equivalent of "the dog ate my homework."
After allowing Taaffe to hold forth on the Michael Dunn trial for most of the show, Grace told the Zimmerman friend that "it has recently, very recently come to my attention about some very disturbing comments on your Twitter feed."
She asked a producer in the control room to read the quote: "The only time a black life is validated is when a white person kills them." She then offered Taaffe a chance to defend himself. "If that's true, it is horrible," Grace said. "If it's not true, you ought to file a lawsuit."
"It's not true," Taaffe responded, telling Grace he has a "pending lawsuit" against Mother Jones, the publication who first brought light to his comments.
But Grace had the control room read yet another quote: "That minority group, they don't do anything productive for this country except for the NBA. And if it wasn't for the NBA, Joe, like I always say, our country would have the world's tallest garbage men. Thank God for the NBA."
"That's not my Twitter account," Taaffe said, adding: "That's some time from years back. Someone hacked into my account. So thank you for letting me get it out there." Watch below [post continues below]:
Taaffe was partially correct. It wasn't his Twitter account, it was his actual voice, saying those exact quotes on the September 18 edition of his podcast.
Below are the quotes in question (full episode here):
Mother Jones has done extensive reporting on Taaffe for some time now, so while the Oprah audio may be the final straw, HLN should have had everything it needed to know about Frank Taaffe a long time ago.
[h/t Spe-lunk-er2000]
Podcast: Play in new window | Download
Have a tip we should know? tips@mediaite.com