FreedomWorks President: Defund Failed 'Because Republicans Started Shooting at Each Other'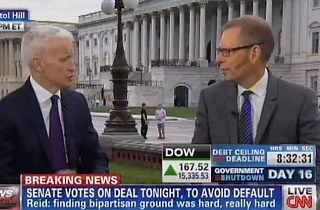 Matt Kibbe, the president of the tea party-aligned group FreedomWorks, joined CNN anchor Anderson Cooper on Wednesday where he stressed his group's opposition to a proposed deal that would end the government shutdown and raise the debt ceiling. Kibbe told Cooper that the effort to defund the Affordable Care Act failed primarily because of Republican infighting.

"You see this as a full surrender by House Republicans," Cooper said. Kibbe agreed.
"Republicans always had one of two choices," Kibbe said. "They could fight against Democrats who were completely intransigent – they said 'I'm not going to negotiate.' Or they could capitulate early on."
"Instead of presenting a united front opposed to Obamacare, opposed to spending so much money we don't have, they started shooting at each other," he continued.
RELATED: DC Tax Day Tea Party 3: The Ugly
Cooper noted that critics of Kibbe's position insisted correctly that those who sought to defund the ACA "never had the votes."
"So, did you actually accomplish anything?" Cooper asked.
Kibbe replied that he thought he did. "What we accomplished was fighting," he said. "It's important in Washington D.C. to step up to the plate and actually stand for something."
"This was all about educating the public," he continued. "We didn't do that because Republicans started shooting at each other."
"The press loves to focus on the theatrics and all these tactical disputes that are going on, but real Americans in the real world are being forced, whether they want to or not, to look at the actual costs of Obamacare," Kibbe added.
He predicted that Democrats will in six months be calling for a delay in Obamacare because it will not accomplish its stated goals.
Watch the clip below via CNN:
[Photo via screen grab ]
— —
> >Follow Noah Rothman (@NoahCRothman) on Twitter
Have a tip we should know? tips@mediaite.com