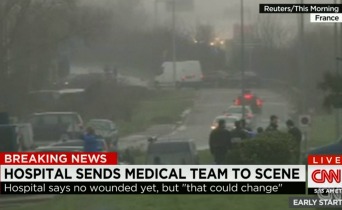 SEE BELOW FOR UPDATES: THE SUSPECTS HAVE BEEN KILLED. The suspected gunmen remaining from the Charlie Hebdo shooting spree may finally be cornered…
On Friday morning, French officials swarmed the town Dammartin-en-Goele, which is northeast of Paris. Media reports indicate a hostage situation, with the two suspects having taken one person into their custody in the process of occupying a printing office.
What we do know is that police officials have expressed "high degree of certainty" that they have the Kouachi brothers surrounded — the two remaining suspects in the massacre that killed 12 people on Wednesday morning.
UPDATE — 9:00 a.m. ET: Here's what we know so far, via CNN:
UPDATE — 9:04 a.m. ET: The suspects are reportedly barricaded in a print shop in Dammartin-en-Goele. Officials say they have told people they are "ready to die" as martyrs.
UPDATE — 11:03 a.m. ET: Flashbang grenades have reportedly been deployed, with two rounds of fire having been shot between the two sides involved (police and the suspects). Unclear whether anyone has been injured or any direct contact has been made.
UPDATE — 11:07 a.m. ET: Vine below of the bangs heard:
UPDATE — 11:20 a.m. ET: The brothers are reportedly dead, according to AFP:
FLASH Charlie Hebdo suspects killed: source

— Agence France-Presse (@AFP) January 9, 2015
SkyNews has reported the same. Also reported: the brothers' hostage has been freed during the assault.
UPDATE — 11:36 a.m. ET: CNN confirmed the deaths with the town's mayor:
BREAKING: Suspects in the #CharlieHebdo attack are dead, local mayor says. Watch updates live: http://t.co/UYpqI3NFaP pic.twitter.com/JmeFCzuP8K

— CNN (@CNN) January 9, 2015
Have a tip we should know? tips@mediaite.com