Freudian Slip? Scarborough Says Rubio's 'Dirty Money' Took Down Christie, Corrects Himself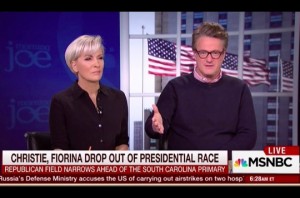 Aside from a brewing controversy yesterday that stemmed from claims of a Morning Joe–Donald Trump alliance of sorts, Joe Scarborough has also had to face scrutiny regarding his relationship with Florida Senator Marco Rubio. An email from an MSNBC producer last week fueled speculation that the host's own criticism of the GOP candidate may stem from personal reasons, citing Rubio's refusal to appear on the morning show.
"Joe sees this as disrespectful given their past relationship… It's as simple as that," read the email in part.
On Thursday morning, keen viewers in the 6 a.m. hour may have been struck with what was perhaps a Freudian slip of some kind, as the Morning Joe panel discussed New Jersey Governor Chris Christie's exit from the race yesterday. Scarborough blasted Rubio's spending in New Hampshire as the cause for the takedown of Christie, who has been a very frequent and personable guest on Morning Joe. "Christie actually was having a great run, he was doing well in town hall meetings, his numbers were going up and then Marco's team started trashing him in ads," said Scarborough.
He then seemed to slip and reference Marco Rubio's "dirty money" that brought down the Christie effort in the Granite State (emphasis mine):
I would hope that the people commenting on Christie leaving the race saying he was mean to Marco and that's why he lost, I would hope that they were ignorant and not actually lying to their readers and viewers because if you're too ignorant to know that's what happened in New Hampshire, that it was Marco's dirty money — dark money, Marco's dark money, and then it was his money that got Chris Christie down to the 4% where he started attacking Marco, then you shouldn't be covering politics, you're lying to your people.
The former Florida Congressman corrected himself, opting instead for the phrase "dark money" after a beat, as someone on the show issued a strangely timed cough at that moment.
Watch the above video from MSNBC and see for yourself.
—
[image via screengrab]
J.D. Durkin is the Senior Editor of Mediaite. You can follow him on Twitter @jiveDurkey.
Have a tip we should know? tips@mediaite.com