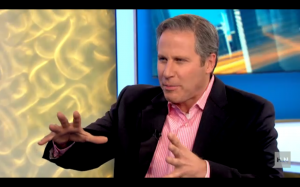 Vinnie Politan, host of HLN's Prime News, rebounded nicely from a Tuesday night low of 45,000 viewers in the 25-54 year-old demo to capture his second straight second-place finish in the 6 p.m. time slot, besting Al Sharpton and John King with 208,000 demo viewers on Friday night (he pulled an impressive 204,000 on Thursday). In fact, Politan's demo numbers were behind just Rachel Maddow's for the highest among non-FOX News shows. He had better numbers than any show on HLN and CNN, and even took down the mighty MSNBC late-night specials among the 25-54 year olds.
Other fun from Friday:
With 158,000 viewers in the demo on Friday, Erin Burnett made it an entire week of growing off John King's lead-in. She also beat Chris Matthews at 7 p.m., but fell into third behind Shepard Smith and Jane Velez-Mitchell. Her replay at 11 p.m., however, put her in second place in that time slot.
We don't usually get into the CNBC ratings, but their Porn: Business of Pleasure special at 10 p.m. drew 148,000 viewers in the demo. It would have finished in third place, behind Greta Van Susteren and Anderson Cooper.
FOX News once again ruled in every time slot, while HLN grabbed three silvers at 5 p.m., 6 p.m., and 7 p.m., CNN took second at 8 p.m., 10 p.m., and 11 p.m., and MSNBC finished second at 9 p.m.
The rest of your Friday night ratings:
TV NEWS RATINGS: 25-54 DEMOGRAPHIC (L +SD)
5 pm
The5

363

Blitzer

105

Matthews

130

Special

201

6 pm
Baier

442

King, USA

99

Sharpton

127

Prime

208

7 pm
Shep

436

Burnett

158

Matthews

155

Issues

171

8 pm
O'Reilly

526

Cooper

192

Schultz

190

Grace

140

9 pm
Hannity

436

Piers

127

Maddow

251

Dr. Drew

113

10 pm
Van Susteren

361

Cooper

161

MSNBC Investigates

139

Behar

124

11 pm
O'Reilly

357

Burnett

150

MSNBC Investigates

147

Showbiz

86

TOTAL DAY
316
124
131
116
PRIME TIME
441
160
193
126
Data by Nielsen Media Research. Live and same day (DVR) data.
TV NEWS RATINGS: TOTAL VIEWERS (L +SD)
5 pm
The5

1,589

Blitzer

539

Matthews

675

Special

130

6 pm
Baier

2,063

King, USA

458

Sharpton

629

Prime
633
7 pm
Shep

1,850

Burnett

592

Matthews

663

Issues

555

8 pm
O'Reilly

2,911

Cooper

637

Schultz

832

Grace

479

9 pm
Hannity

1,926

Piers

612

Maddow

1,046

DrDrew

447

10 pm
Greta

1,526

Cooper

501

MSNBC Investigates
314
Behar

394

11 pm
O'Reilly

1,022

Burnett

389

MSNBC Investigates

307

Showbiz

294

TOTAL DAY
1,251
433
433
345
PRIME TIME
2,127
583
731
437
Data by Nielsen Media Research. Live and same day (DVR) data
Have a tip we should know? tips@mediaite.com