Friday's Ratings: Lawrence O'Donnell Bids Adieu To 8 p.m. Time Slot By Finishing Second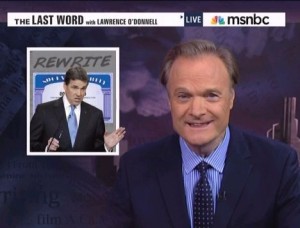 While FOX continued to pounce all comers in the ratings, it was MSNBC's Lawrence O'Donnell who made for the most intriguing storyline: Friday marked his last show at 8 p.m. (he's being swapped with Ed Schultz and starts broadcasting at 10 p.m. tonight), and he went out with a bang, finishing in second place behind Bill O'Reilly in the time slot, (among adults, 25-54). Even more impressive, especially for those not interested in demos, was that O'Donnell was the only non-FOX show to attract over one million total viewers. He had the most total viewers of any show on MSNBC on Friday night.
Some other fun facts from Friday:
Greta Van Susteren had a strong night, grabbing more 25-54 viewers than Brett Baier managed earlier on the FOX schedule.
Dr. Drew and Joy Behar couldn't manage to break six digits in the demo, as both finished with under 85,000 viewers. Showbiz Tonight, however, almost doubled its Behar (73,000) lead-in, snagging 135,000 in the 25-54 demo. In more Fun With Behar Numbers, Van Susteren nearly quintupled her in the demo.
Erin Burnett and John King both finished fourth in their original time slots. Burnett, Baier, and Behar all alliteratively finished last on their networks in the demo.
If you were looking for Ed Schultz on Friday night, so you could gently weep against the television screen during his last 10 p.m. show, you were out of luck. MSNBC aired two Lockdown episodes. The first, at 10 p.m., was the lowest-rated on the station in the demo all night. The second, at 11 p.m., ended up being the highest-rated show on the station in the demo on Friday night.
Here are the complete cable news ratings for Friday night:
TV NEWS RATINGS: 25-54 DEMOGRAPHIC (L +SD)
5 pm
The5

382

Blitzer

162

Matthews

166

Special

156

6 pm
Baier

323

King, USA

122

Sharpton

169

Prime

151

7 pm
Shep

410

Burnett

118

Matthews

172

Issues

142

8 pm
O'Reilly

660

Cooper

174

O'Donnell

252

Grace

104

9 pm
Hannity

482

Piers

168

Maddow

254

DrDrew

85

10 pm
Van Susteren

349

Cooper

219

MSNBC Investigates

150

Behar

73

11 pm
O'Reilly

369

Burnett

135

MSNBC Investigates

259

Showbiz

135

TOTAL DAY
290
127
156
108
PRIME TIME
502
187
219
85
Data by Nielsen Media Research. Live and same day (DVR) data.
TV NEWS RATINGS: TOTAL VIEWERS (L +SD)
5 pm
The5

1,502

Blitzer

624

Matthews

609

Special

599

6 pm
Baier

1,886

King, USA

485

Sharpton

689

Prime

586

7 pm
Shep

1,779

Burnett

411

Matthews

792

Issues

604

8 pm
O'Reilly

3,111

Cooper

587

O'Donnell

1,026

Grace

616

9 pm
Hannity

2,055

Piers

699

Maddow

937

DrDrew

444

10 pm
Greta

1,660

Cooper

655

MSNBC Investigates


319

Behar

347

11 pm
O'Reilly

1,316

Burnett

376

MSNBC Investigates


416

Showbiz

329

TOTAL DAY
1,228
435
444
339
PRIME TIME
2,286
647
761
458
Data by Nielsen Media Research. Live and same day (DVR) data
Have a tip we should know? tips@mediaite.com