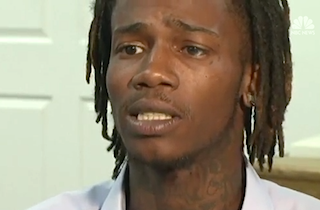 22-year-old Dorian Johnson, a friend of Michael Brown's who was walking with the Ferguson, Missouri teenager when he was shot and killed by a police officer there, has been speaking out about what he saw this past Saturday. First Johnson told MSNBC's Chris Hayes that Brown never touched the officer in any threatening way. Now, in a new interview with NBC's St. Louis affiliate KSDK, Johnson the fuller events of the day as they unfolded.
In Johnson's telling, he and Brown were walking down the street, "minding our own business," around 2 p.m. in the afternoon when an officer pulled up in a police car and said, "Get the f- on the sidewalk." The officer ended up trying to pull Brown into the window of the car, but Johnson said Brown "never attempted to grab for this officer's weapon."
Still holding on to Brown by the neck, the officer shot him once, allowing the teenager and his friend to start running away. The officer caught up with them and shot Brown once in the back as Johnson ducked for cover behind a car. Still standing, Brown then put his hands in the air and turned around to face the officer, trying to tell him he was unarmed.
But "before he could get his second sentence out, the officer fired several more shots into his head and chest area," Johnson said, starting to tear up. "It was definitely like being shot like an animal," he added. "It was almost like putting someone in execution."
"I definitely think he's guilty of murder," Johnson said of the officer.
If the case ends up in a courtroom, Johnson will likely be a prime witness on the side of Michael Brown's family. But according to his lawyer, Freeman Bosley the police have not even interviewed him yet about what happened. "They didn't even want to talk to him," Bosley said. "They don't want the facts. What they want is to justify what happened."
Watch video below, via NBC News:
[Photo via screengrab]
— —
>> Follow Matt Wilstein (@TheMattWilstein) on Twitter
Have a tip we should know? tips@mediaite.com