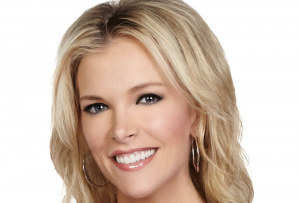 Megyn Kelly is having a very good month.
And we're not talking from a ratings perspective, either.
Comparing Kelly to her competition at 9:00 PM is now a pointless exercise. The May numbers show her beating CNN's taped programming (Bourdain, Rowe, etc.) and MSNBC's Rachel Maddow many nights by a 3-to-1 ratio or more. It's actually been that way for some time and Kelly's dominance appears to only be getting stronger. All of that said, what this column will focus on is all the headlines/buzz the program is generating long after the 44-year-old Albany Law grad signs off at 10:00 PM ET.
The past month has seen Kelly first accomplish what many try and often fail to do on a daily basis in cable news: own a distinct voice on a controversial issue without hurting one's brand. It's a tough trick to pull off. By being distinctive, you're therefore being unique. By being unique, it invariably means you're in the minority and therefore swimming against common sentiment on a particular topic.
And that's the wire Kelly negotiated upon–without ambiguity–supporting Pamela Geller's First Amendment right to free speech during the organizer's patently-reckless Draw Mohammad contest on May 5th. Obviously, the "patently-reckless" characterization illustrates which camp I fell into on the matter (free speech is one thing, purposely provoking violence through it is quite another). But disagreement doesn't mean not listening to what the other side has to say, and Kelly taking on many of her on-air brethren at her own network (particularly Bill O'Reilly) while making her case ("We don't compromise our values") with genuine passion and candor became Must-See-TV. In the end, the Geller controversy and the First Amendment narrative became her story, and Kelly owned it despite being in what felt like the minority opinion.
Following that was the Jeb Bush interview on May 11th. Know this. The former Florida governor may never fully recover from the impression his answer to Kelly's knowing-what-we-know-now question on the invasion of Iraq has made in instantly turning him into George W. Bush 2.0. That assessment may be unfair. Jeb may be the more capable leader. But what Kelly exposed was Jeb's biggest weakness:
His sensitivity toward his brother's feelings and reluctance to criticize his track record.
By initially stating he would go into Iraq knowing what we know now, Jeb gave a preview of what his campaign will ultimately be about: running for the highest office in the land while not making his brother look bad in the process. And when you heard him try towalk back the initial answer to Kelly on at least four different occasions days later, one thing became abundantly clear: Jeb won't be running against Hillary Clinton as much as he'll be running against the 43rd President if he somehow wins the nomination. If that's the case, he shouldn't even bother running, no matter how much money is backing him.
Remember: all of this came about in what some–at least those who don't watch Kelly on a nightly basis–perceived would be a relatively easy Q&A for Bush. But as we saw during her interview with Dick Cheney–which could be argued as the toughest one he's had since going back into private life–Kelly isn't out to score points with the RNC. And it's that unpredictability and doggedness (regardless of interviewee) that keeps people coming back.
So when it was time for the Jim Bob and Michelle Duggar to decide who to go to speak out in light of the devastating revelation that son Josh had molested five young girls when he was a teenager (including his own sisters), they didn't turn to Oprah, a semi-retired Barbara Walters or the new queen of daytime in Ellen DeGeneres. Instead, it's Kelly and her team who landed the most coveted interview of the year this side of Bruce Jenner.
Per Mediaite's Andrew Husband:
According to the press release, Kelly's interview with Jim Bob and Michelle Duggar will directly address Josh's molestation allegations, as well as the resulting controversy in politics and the media at large. How detailed Kelly's questions (and the Duggars' answers) will be remains to be seen.

The interview, which was filmed at the Duggar home in Arkansas, will air on The Kelly File on Wednesday, June 3, at 9 p.m. ET on the Fox News Channel. Additional segments from the pre-taped interview will be broadcast during a Kelly File special that Friday at 9 p.m. ET.
Owner of the Geller controversy. Owner of the question that led to the sound bite that may doom Jeb Bush's candidacy before it ever begins. Owner of the first conversation with Jim Bob and Michelle Duggar since the news of their son rocked the country.
Megyn Kelly is having a very good month.
— —
>>Follow Joe Concha on Twitter @JoeConchaTV
Have a tip we should know? tips@mediaite.com