From The Elephant's Mouth: Fox News Reporter Offers Republican Talking Points As Hard News Analysis
From The Elephant's Mouth: Fox Reporter Offers GOP Talking Points As Hard News Analysis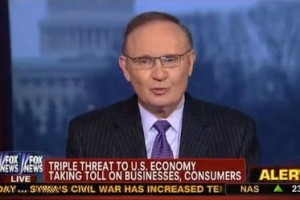 Earlier this week, I took a look at just one example of how Fox News' supposed separation of "hard news" from opinion programming failed. On Friday's edition of America Live, the other side of that coin was revealed. Hard news reporter Jim Angle presented what can only be characterized as Republican talking points as "hard news" analysis of the U.S. economy. Angle delivers the diagnosis, of "many economists," that the "reasons for a stagnant economy are clear: too much debt, too many regulations and tax increases in a slow economy," and Fairly Balances that out with what "Democrats" think.
Megyn Kelly began the segment by noting recent reports of a minor panic at WalMart, a recent spike in gas prices, and the possible effect of Congress' failure to extend the payroll tax holiday. "Now, a new survey says that 7 out of 10 Americans are cutting back on spending as a direct result of these factors, and much more."
In fact, though, the survey Kelly was referring to only asked about one specific factor, the payroll tax holiday, which Republicans fought every step of the way.
Kelly then tossed to Chief National Correspondent Jim Angle, who discussed the 2009 stimulus as though it just happened. "After almost $800 billion in stimulus, the unemployment rate remains high at 7.8%," Angle said, without noting that the stimulus actually did keep unemployment several points lower than it otherwise would have been, as the Bush recession cut deeply into the first year of the Obama administration. Some would call that "bias," but the mainstream press has also accepted the false narrative that the stimulus "didn't work."
This is where Angle begins to work the magic. "Many economists fear the economy is entering a period of stagnation, with little job creation ahead, and without job creation, consumers don't have a the lot of money to spend," Angle continued, an inoffensive, if simplistic, observation that elicits agreement from the viewer. The grift, though, is that he's also getting the viewers to agree that what he's about to show them is the consensus of "many economists."
"It's the worst business cycle we've had since the end of World War II in terms of job creation," says The Cato Institute's Dan Mitchell, in a separate clip, "and we still haven't gotten back to where we were in the previous business cycle."
Mitchell isn't offering much here, but his presentation as a disinterested expert is the real point. A former Republican adviser, Mitchell is a staunch advocate of so-called "supply-side" economics.
The piece cuts back to Angle, who declares "Many economists say the reasons for a stagnant economy are clear: too much debt, too many regulations, and tax increases in a slow economy."
There they are again, those "many economists," which now include both Mitchell and John Silvia, who is attributed as "Wells Fargo Chief Economist," explaining how taxes, regulations, and the debt are the problem.
Now, being Wells Fargo's "Chief Economist" is a little bit like being Mrs. O'Leary's Chief Fire Inspector, but even that dubious attribution doesn't do Silvia justice. What Angle, and Fox News fail to mention is that Silvia was also a campaign surrogate for Mitt Romney*. That's probably why these talking points sound so oddly familiar, because Mitt Romney was the Republican nominee for president in 2012, and he lost that election using them.
After falsely posing two Republican advisers' opinions as the consensus of "many economists," Angle finishes the piece by explaining who else, in the world, has something to say about the economy. "Democrats," Angle says,"have a different view on the reasons of course, but agree the economy is crawling along, and needs more help from the government, at least for now."
In the world of Fox "Hard News," the discussion is between "many economists" and "Democrats," and there are absolutely no economists (or at least, not two) supporting what "Democrats" are saying.
There would be nothing wrong (aside from Mitchell's and Silva's conclusions) with any of this if it were featured as opinion on a program like Hannity, and/or those "experts" were clearly labeled, but by posing their partisan opinions as hard analysis, and adding his own voice to theirs, Jim Angle demonstrates why I believe Fox News cannot be trusted to keep its promise of hard news separation. That's a lesson many have already learned, but it's also a worthwhile one to reinforce.
Here's the clip, from America Live:
*Mitt Romney was the Republican nominee for president in 2012.
Have a tip we should know? tips@mediaite.com