From The Mediaite Vault: Shep Smith Tells Us How Excited He Is For Lethal Weapon 3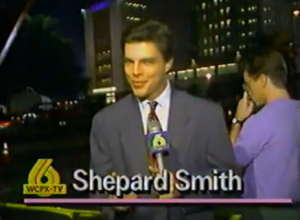 Welcome to the latest installment of our summer series in which we head back into the Mediaite Vault (*cough* the Internet *cough*) to find some choice moments showing our favorite media personalities back when their journalism hit a little less hard. Consider it meeting the press before they were the press. This time we check out Fox News' Shepard Smith as he brings the people of Orlando the tough news that Mel Gibson doesn't like their potato chips.
Smith is known as a voice of sanity in an insane world. No matter what the topic is (a wayward celeb whose parents let her down, a company who's destroying our ecosystem, whether or not we should use torture on terrorists), Shep is going to cut through all the BS and tell it like it is. Back in 1991, Smith was working for WCPX Orlando and, even back then, he was putting his finger to the winds and speaking for the people, and what the people had to say was that Lethal Weapon 3 was going to be awesome!
How could it not be? There were so many questions left over from Lethal Weapon 2! Would Joe Pesci return and would he still be hilariously short? Would Mel Gibson's haircut be dated before the movie even came out? How old does someone have to be before they are no longer age appropriate for "this shit"? Clearly the people would not be wrong and the movie was going to be a classic.
Oh wait. Don't worry, this doesn't really hurt Shep's integrity. It's not like he went on TV and said Lethal Weapon 4 was going to be good.
The above clip of Smith reporting from the location of the movie is pretty great. There's a young Shep talking to a bunch of women whose haircuts are even worse than Mel's about how they are all dying to get a glimpse of the hunky Australian (if only one of them were able to get beyond the police barricade, maybe then they'd be the lucky ones getting threats of sexual assault!). Smith informs viewers how they can avoid traffic caused by the filming, what the film crew has done to change the location, and, most importantly, what the Road Warrior thinks of the available snacks. Smith even gets to interview a dog!
If there's anything to be learned from these Vault Videos, it's that everyone starts somewhere. Even Shepard Smith, a Fox News anchor so well-regarded that even people who hate Fox News like him, had to start out by asking puppies whether they were excited to see Mel Gibson.
Have a tip we should know? tips@mediaite.com