Frustrated Jake Tapper Confronts Pence For Blaming Media: 'We Just Ran the Clip!'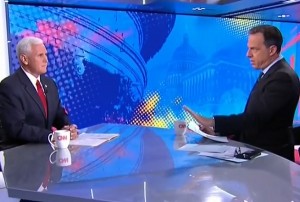 Republican presidential nominee Donald Trump has placed his campaign surrogates in limbo as he decides what to do about a "deportation force," and it's taking a toll. On Sunday's edition of CNN's State of the Union, for example, Indiana Governor and Trump  running mate Mike Pence tried to navigate the issue by blaming the media for wanting to "focus" on an issue that Trump has literally been shouting about since day one of his campaign, and by criticizing host Jake Tapper's "characterization" of Trump's policy.
A frustrated Tapper called Pence out:
Pence: I know the media wants to focus on that one issue. Donald Trump will articulate a policy about how we deal with that population. But I promise you, he is going to remain completely focused on American citizens and people who are here legally and how we get this country working for people who play by the rules.

Tapper: I don't understand why it's the fault of the media for focusing on an issue that you're crediting donald trump for bringing to the fore. the idea is, mr. trump won the primaries in no small way because he had the very forceful position of saying all 11 or 12 million undocumented immigrants will be forced to leave the country. now you, right this minute, are not saying that that's the policy. you're saying he's going to unveil it in the next few weeks. it's 72 days until the election.

Pence: The way you characterize his position is one thing. I think he has been –

Tapper: We just ran the clip!

Pence: Jake, he has been completely consistent in the principles that he has articulated…
Tapper concluded that line of questioning by noting "To be clear, you did not address the issue about whether or not there will be a deportation force," before moving on to the next topic.
Have a tip we should know? tips@mediaite.com