Full Interview: ABC News Sits Down With Juror B29: 'I'm Hurting As Much As Trayvon's Mother'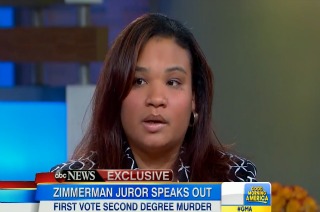 On Friday morning, ABC News aired the full interview in which Good Morning America anchor Robin Roberts spoke with juror B29. Referring to herself only as Maddy, the juror discussed her experience arguing over the culpability of George Zimmerman in the murder of Trayvon Martin with her fellow jurors. That argument ultimately led to Zimmerman's acquittal. She said that she feels the pain of Martin's family and added that she is "hurting as much as Trayvon's mother."

Roberts revealed that Maddy is a 36-year-old mother of eight children who works full time as a nurse's aide. Maddy was the only member of Zimmerman's all-female jury who is of minority descent.
RELATED: Juror B29 To Robin Roberts: 'I Stand By Decision Because Of The Law,' But In 'My Heart' Zimmerman's 'Guilty'
"My first vote was second degree murder," Maddy said. "A lot of us had wanted to find something bad, something that we could connect to the law because all six of us — let's not speak for all six of us. For myself, he's guilty because the evidence shows he's guilty."
"But, we couldn't prove that intentionally he killed him," Maddy confessed.
Maddy countered some assertions in the media that the other jurors overwhelmed Maddy's conviction that Zimmerman was guilty. "I was the loudest," she said. "My voice was heard."
"I feel that I was forcefully included in Trayvon Martin's death," Maddy added with tears welling up in her eyes. "I carry him on my back. I'm hurting as much as Trayvon's mother because there's no way that any mother should feel that pain."
Asked if she thought that Zimmerman "got away with murder," Maddy agreed. She offered an apology to Martin's family and said that she feels like she "let them down."
Maddy said she came forward in order to counter the narrative set by juror B37 who, in an interview with CNN's Anderson Cooper, was widely criticized for appearing excessively sympathetic toward Zimmerman.
Watch the interview below via ABC:
> >Follow Noah Rothman (@NoahCRothman) on Twitter
Have a tip we should know? tips@mediaite.com