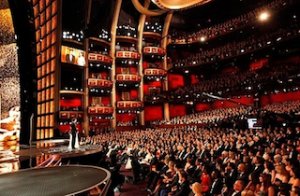 Mediaite's writers have made our predictions for who we think will win the major categories during this year's Oscars, and our readers have been taking our poll to see which group can pick more winners.
But starting at 8:30pm ET on Sunday, February 24th the speculation will be over and the Academy's choices will be revealed. Stay right here to find out who wins in every category.
Winners will be bolded as they are announced throughout the evening.
BEST PICTURE
Amour
Argo
Beasts of the Southern Wild
Django Unchained
Les Misérables
Life of Pi
Lincoln
Silver Linings Playbook
Zero Dark Thirty
BEST ACTOR IN A LEADING ROLE
Bradley Cooper, Silver Linings Playbook
Daniel Day-Lewis, Lincoln
Hugh Jackman, Les Misérables
Joaquin Phoenix, The Master
Denzel Washington, Flight
BEST ACTRESS IN A LEADING ROLE
Jessica Chastain, Zero Dark Thirty
Jennifer Lawrence, Silver Linings Playbook
Emmanuelle Riva, Amour
Quvenzhané Wallis, Beasts of the Southern Wild
Naomi Watts, The Impossible
BEST PERFORMANCE BY AN ACTOR IN SUPPORTING ROLE
Christoph Waltz, Django Unchained
Philip Seymour Hoffman, The Master
Robert Deniro, Silver Linings Playbook
Alan Arkin, Argo
Tommy Lee Jones, Lincoln
BEST PERFORMANCE BY AN ACTRESS IN SUPPORTING ROLE
Sally Field, Lincoln
Anne Hathaway, Les Misérables
Jacki Weaver, Silver Linings Playbook
Amy Adams, The Master
Helen Hunt, The Sessions
BEST ANIMATED FEATURE FILM
Brave
Frankenweenie
ParaNorman
The Pirates! Band of Misfits
Wreck-It Ralph
BEST DIRECTOR
Michael Haneke, Amour
Benh Zeitlin, Beasts of the Southern Wild
Ang Lee, Life of Pi
Steven Spielberg, Lincoln
David O. Russell, Silver Linings Playbook
BEST WRITING, ORIGINAL SCREENPLAY
Amour, Written by Michael Haneke
Django Unchained, Written by Quentin Tarantino
Flight, Written by John Gatins
Moonrise Kingdom, Written by Wes Anderson & Roman Coppola
Zero Dark Thirty, Written by Mark Boal
BEST WRITING, ADAPTED SCREENPLAY
Argo, Written by Chris Terrio
Beasts of the Southern Wild, Written by Lucy Alibar & Benh Zeitlin
Life of Pi, Written by David Magee
Lincoln, Written by Tony Kushner
Silver Linings Playbook, Written by David O. Russell
BEST DOCUMENTARY FEATURE
5 Broken Cameras
The Gatekeepers
How to Survive a Plague
The Invisible War
Searching for Sugar Man
BEST FOREIGN LANGUAGE FILM
Amour (Austria)
Kon-Tiki (Norway)
No (Chile)
A Royal Affair (Denmark)
War Witch (Canada)
BEST ORIGINAL SONG
"Before My Time" from Chasing Ice, music and lyrics by J. Ralph
"Everybody Needs a Best Friend" from Ted, music by Walter Murphy, lyrics by Seth MacFarlane
"Pi's Lullaby" from Life of Pi, music by Mychael Danna, lyrics by Bombay Jayashri
"Skyfall" from Skyfall, music and lyrics by Adele Adkins and Paul Epworth
"Suddenly" from Les Misérables, music by Claude-Michel Schönberg, lyrics by Herbert Kretzmer and Alain Boublil
BEST CINEMATOGRAPHY
Anna Karenina
Django Unchained
Life of Pi
Lincoln
Skyfall
BEST COSTUME DESIGN
Anna Karenina
Les Misérables
Lincoln
Mirror Mirror
Snow White and the Huntsman
BEST DOCUMENTARY SHORT
Inocente
Kings Point
Mondays at Racine
Open Heart
Redemption
BEST FILM EDITING
Argo
Life of Pi
Lincoln
Silver Linings Playbook
Zero Dark Thirty
BEST MAKEUP AND HAIRSTYLING
Hitchcock
The Hobbit: An Unexpected Journey
Les Misérables
BEST ORIGINAL SCORE
Anna Karenina
Argo
Life of Pi
Lincoln
Skyfall
BEST PRODUCTION DESIGN
Anna Karenina
The Hobbit: An Unexpected Journey
Les Misérables
Life of Pi
Lincoln
BEST SHORT FILM – ANIMATED
Adam and Dog
Fresh Guacamole
Head over Heels
Maggie Simpson in 'The Longest Daycare'
Paperman
BEST SHORT FILM – LIVE ACTION
Asad
Buzkashi Boys
Curfew
Death of a Shadow (Dood van een Schaduw)
Henry
BEST SOUND EDITING TIE
Argo
Django Unchained
Life of Pi
Skyfall
Zero Dark Thirty
BEST SOUND MIXING
Argo
Les Misérables
Life of Pi
Lincoln
Skyfall
BEST VISUAL EFFECTS
The Hobbit: An Unexpected Journey
Life of Pi
Marvel's The Avengers
Prometheus
Snow White and the Huntsman
—
>> Follow Matt Wilstein (@TheMattWilstein) on Twitter
Have a tip we should know? tips@mediaite.com