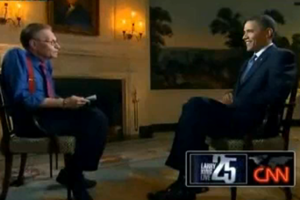 It's been a huge week all around on Larry King Live, but no interview has been bigger during this birthday week than sitting down President Barack Obama to talk about the barrage of problems that have hit his administration in the past few months. And, predictably, the pressure is bringing out a side to the President we had yet to see: his angry side.
The prime target of the newfound ire was, of course, BP and the mess they created in the middle of the Gulf of Mexico. "You know," he told King, "I am furious at this entire situation because this is an example where somebody didn't think through the consequences of their actions." He insisted that "BP has to shut down this well" and, furthermore, that they had "felt the anger" from his administration. That said, he also didn't want to make it seem that he was wasting time making them "feel the anger" without doing anything about it. On that note, he made a shocking confession: he wouldn't mind spending a lot of his time just yelling about how awful the Gulf oil leak is:
"I would love to just spend a lot of my time venting and yelling at people. But that's not the job I was hired to do. My job is to solve this problem and ultimately this isn't about me and how angry I am. Ultimately this is about the people down in the Gulf who are being impacted and what am I doing to make sure that they're able to salvage their way of life. And that's going to be the main focus that I've got in the weeks and months ahead."
On the hot-button topic of illegal immigration, on which he met with Arizona governor Jan Brewer today, he returned to his more familiar tone, expressing his concern with the legal implications of the law her state implemented against illegal immigration. He reiterated his position that he saw an opportunity to put Latin American Arizonans in "an unfair situation," but beyond that he was more concerned that the authority of the federal government was being flouted. The law, he explained "creates the prospects of 50 different laws in 50 different states when it comes to immigration. This is a federal job. What we have to do is take on that federal responsibility by working with border states on border security."
King also asked him about the other large problem on his plate: the new conflict in Gaza after the Israeli military seized a boat headed there with humanitarian supplies. He reiterated the point others in his administration have made that a full, "effective investigation of everything that happened" was necessary, and that the US, as well as the UN, "condemned all the acts that led up to this violence." The takeaway, he explained, was that "the status quo was unsustainable," but he gave no specific policies with which that would be changed apart from multilateral negotiations.
The segments from the interview where he talks about all of the above below:
Have a tip we should know? tips@mediaite.com