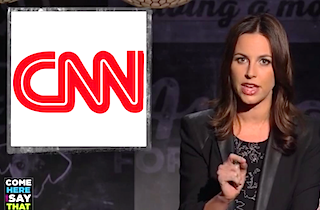 CNN found itself in a tricky situation last month when its anchors' use of the word "thug" to describe Baltimore rioters was called out by critics like city councilman Carl Stokes, who said that word was essentially a racial slur. What followed over the next several days was a very public debate examining whether thug is "the new 'n-word.'"
On her Fusion show Come Here and Say That, host Alicia Menendez asked an important question: "Why is CNN looking for a new 'n-word'" in the first place?
"When major news happens, even horrible news, the media profits. So it's no surprise that everyone wants to maximize coverage of events that grab the nation's attention," Menendez reported. "That said, we're wondering if some in the media — cough, CNN — are milking the unrest in Baltimore and other cities nationwide a little too hard."
RELATED: Ashleigh Banfield Confronts Councilman: I Was 'Livid' When You Used 'N-Word' on CNN
She suggested that CNN attempted to turn those "lemons into lemonade" because they need to fill 24 hours and "Anthony Bourdain can't be on all day." Speaking of lemons, Don Lemon was wondering aloud whether "thug" is a "racist term" all the way back in January 2014.
"We have an 'n-word.' It's so repulsive that we can only call it be its first initial," Menendez continued, urging CNN to cool it with all the Baltimore coverage. "News is not a dance-a-thon, or a jam band, it's not my high school LiveJournal or the second half of a Judd Apatow movie, it doesn't need to go on if you can't do it well."
Watch video below, via Fusion:
[Photo via screengrab]
— —
>> Follow Matt Wilstein (@TheMattWilstein) on Twitter
Have a tip we should know? tips@mediaite.com