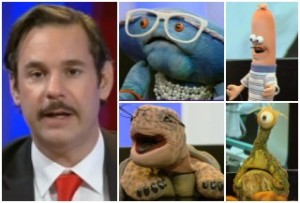 Fusion, a new cable channel started up as a joint venture between ABC News and Univision, has been making a name for itself in the news market, with anchors like Jorge Ramos bolstering the news division and scoring interesting, substantive interviews with political figures.. The network even poked fun at all the incessant, over-the-top Justin Bieber coverage last week. So what the network has planned for State of the Union coverage will probably surprise you:
Puppets.
Yes. Puppets.
RELATED: Fusion TV Mocks CNN's Crossfire with 'Crab Fire'
One of Fusion's lighter shows is No, You Shut Up! (which, again, is really what every cable news debate show should be named), in which comedian Paul F. Tompkins and a panel of puppets discuss the important issues of the day. And tonight they are going to be running Fusion's live State of the Union coverage.
The cast of Fusion's 9:30 p.m. satirical program includes Yerd Nerp, a one-eyed alien who champions immigration reform; Star Schlessinger, a conservative red squirrel; the simian Professor Cornelius Nougat; and Hot Dog, a garrulous Frankfurter… All will offer commentary during the event, in a programming notion that sounds like a mash-up of "Mystery Science Theater 3000," "The McLaughlin Group" and a Saturday-morning cartoon circa 1976.
Mystery Science Theater meets the State of the Union… well, that definitely sounds interesting.
To give you some idea of what you can expect, you can watch a clip from No, You Shut Up! here, via Fusion:
[h/t HuffPost]
[photo via screengrab]
— —
Follow Josh Feldman on Twitter: @feldmaniac
Have a tip we should know? tips@mediaite.com
Josh Feldman - Senior Editor