'Future Of Organized Hate'? White Student Union Founder Defends Controversial Campus Patrolling Effort On CNN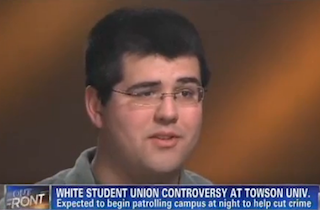 Is Towson University's White Student Union the "future of organized hate"? Its founder Matthew Heimbach doesn't think so, but others aren't so sure — and the group's drawn controversy recently, especially following its plans to patrol the campus in response to black-on-white crime. Heimbach spoke to CNN's David Mattingly in an interview that aired on Erin Burnett's OutFront, defending the organization and its goals.
The Southern Poverty Law Center's Mark Potok argued that the last time we heard this type of message it was from "the Reconstruction-era Klan."
"I believe specifically in the identity of the Southern people," Heimbach asserted. "I'm white, my culture is white, my customs are white, my language is white."
His group, last year, took writing phrases like "white pride" across campus. "No longer will the homosexual, Muslim, and black supremacist groups be allowed to hijack our campus," Heimback remarked.
Towson University President Maravene Loeschke said the group is trying to promote "white supremacy issues" and "issues of non-inclusion." Specifically, Heimbach has complained about crime on campus and didn't take well to Mattingly's question about the group's racial motivations, arguing that were it a black group, they'd be hailed as "heroes."
That wave of crime "appears to be invented," the segment noted. Pressed on the decline in the crime and the fact that Towson is the safest of Maryland's universities, Heimbach insisted the numbers do back him up. Given that Heimbach hasn't broken any rules, Mattingly noted, the university can't do much about his efforts — though that have said there will be a stronger police presence to ensure "the entire campus community continues to feel safe and comfortable."
Take a look, via CNN:

Have a tip we should know? tips@mediaite.com