Gabby Giffords' Husband Mark Kelly: Guns Have Turned 'Every Corner' Of America Into Places Of 'Carnage'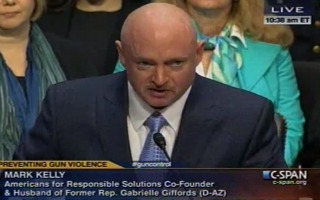 Former Rep. Gabby Giffords (D-AZ), a victim of a mass shooting in 2011, and her husband, Mark Kelly, testified before a Congressional panel on gun violence on Wednesday. Kelly told the assembled members of Congress that gun ownership is a responsibility that Americans have not taken seriously by safeguarding society with laws that curtail needless death. He said that modern weapons "have turned every single corner of our society into places of carnage and gross human loss."

RELATED: NRA CEO Wayne LaPierre's Senate Testimony: 'Gun Owners Will Not Accept Blame For Acts Of Criminals'
"Gabby is a gun owner and I'm a gun owner," Kelly told the Congressional panel. "We have our firearms for the same reason that millions of American just like us have guns: to defend ourselves, to defend our families, for hunting, and for target shooting."
Kelly said that he and his family believe in and support the Second Amendment. However, "rights demand responsibility," he said.
"This right does not extend to terrorists, it does not extend to criminals, and it does not extend to the mentally ill," Kelly continued.
"When dangerous people get guns, we're all vulnerable," he added. "When dangerous people get dangerous guns, we are all the more vulnerable. Dangerous people with weapons specifically designed to inflict maximum lethality upon others have turned every single corner of our society into places of carnage and gross human loss."
Kelly concluded by saying that the Founding Fathers confirmed a right upon modern Americans that they have behaved responsibly with.
Watch Kelly's testimony below via C-SPAN:
> >Follow Noah Rothman (@NoahCRothman) on Twitter
Have a tip we should know? tips@mediaite.com