Gabby Giffords' Husband Mark Kelly Tells Wolf Blitzer Why He Bought An AR-15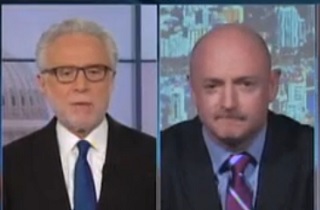 Over the weekend, conservative websites like Breitbart.com and Michelle Malkin's site attacked retired astronaut Mark Kelly, husband of former Congresswoman Gabby Giffords, over his recent purchase of a used AR-15 assault weapon. On Monday afternoon's The Situation Room, Kelly told CNN's Wolf Blitzer why he purchased the gun, and said he didn't "know anything about who Breitbart is, or anything about his website," and that he planned all along to buy the weapon, and post about it on Facebook.
Blitzer began by asserting that Mark Kelly was "causing a stir after purchasing two guns, including an AR-15 assault-style rifle," and asked Kelly "How come you went out and bought an AR-15?"
Kelly responded that "it's important for me to have firsthand knowledge about how easy it is, or difficult it is, to buy a weapon like that," and that he plans to complete similar purchases at gun shows in the future. He also noted that purchasing that AR-15 was "actually pretty easy, you know, for a weapon that's so deadly, and really designed for the military, especially with the high capacity magazines, it is a pretty easy thing to do, even with a background check."
The "stir" that Wolf Blitzer referred to is the suddenly-keen-on-gun-tracking conservative blogosphere. On Saturday, Breitbart News reported that Kelly purchased a .45 semiautomatic pistol and a used AR-15 at a gun store in Tucson last week, then posted a message about the purchase on Facebook. The site heavily implied that Kelly only made that revelation on Facebook, and his decision not to keep the weapon, because Breitbart News was asking around about it. Blitzer asked Kelly about that implication.
"The conservative news site Breitbart suggested you went public with this decision to buy the AR-15 because they were about to report it," Blitzer said, reading from the Breitbart story, and asking "What do you say about that?"
"Well, I don't know anything about who Breitbart is, or anything about his website," Kelly responded. "We had a plan to go in there to buy a .45, and if we had the opportunity, to buy an AR-15 as well. I don't know the timing, but we had a plan when we were going to announce that on Facebook. In the future, I'll be talking about buying a gun from a gun show, also selling a gun. So that's all to come later, because I really need to understand this, the issues, you know, surrounding gun violence and these weapons."
"What are you going to do with the AR-15?" Blitzer asked.
"Well, the plan is to turn it into the Tucson police department," Kelly replied, just as he had on Facebook. He also told Blitzer that he plans to keep the .45 that he purchased. "Gabby and I are gun owners," he said, "strong supporters of the Second Amendment, had guns all my life. I'll be keeping the .45, turning in the AR-15. but the important thing that's coming up this week, what's going to happen in the Senate Judiciary Committee. It is important we get this universal background checks passed."
Blitzer persisted. "Just to be precise," he said, "your intention was always to hand over the AR-15 to the police department?"
"Absolutely, yeah," Kelly responded. "I have no use for a gun like that. From my military experience, it is important that the military have assault weapons with high capacity magazines. I really think the access that the public has to these, it is too easy, as I demonstrated the other day. It is easy to buy an assault weapon, they're readily available, and they really shouldn't be."
It's ironic that pro-gun conservatives are willing to inform on a gun owner in great detail, even as they oppose any and all collection of gun data that could be used to reduce gun violence and solve crimes. That they would jump to attack Mark Kelly is telling in a different way.
Here's the video, from CNN:
Follow Tommy Christopher (@TommyXtopher) on Twitter.
Have a tip we should know? tips@mediaite.com