Gabrielle Giffords' Husband Mark Kelly Is Open To Meeting Jared Loughner's Parents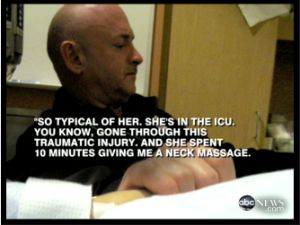 More good news for Gabrielle Giffords: The congresswoman, who is still recovering from having been shot in the head while meeting with her constituents in Tucson, Arizona, is well enough to give her husband a neck rub. We know, we know: Aw!
Giffords' husband, astronaut Mark Kelly, spoke to ABC's Diane Sawyer in his first interview since the shooting, updating her on his wife's continued progress. Not only has her status from critical to serious, but doctors deemed her well enough to breathe on her own, without the aid of a breathing tube. And, adding a personal touch to his report, Kelly shared with Sawyer that Giffords is now well enough to reach out and show affection:
So typical of her. She's in the ICU. You know, gone through this traumatic injury. And she spent 10 minutes giving me a neck massage.
Kelly has been by his wife's side throughout her recovery, as evidenced in genuinely sweet photos of the two holding hands in her hospital room.
Kelly also shared that he is all to aware of the long road to recovery his wife has ahead of her, but adds that she's a "really, really tough woman."
Incredibly, Kelly also shared that he'd be willing to meet with the parents of Jared Loughner, the 22-year-old who placed a bullet in his wife's head:
I'd probably see them. You know, I don't think it's their fault. It's not the parents fault. You know, I'd like to think I'm a person that's, you know, somewhat forgiving. And, I mean, they've got to be hurting in this situation as much as much as anybody.
Watch video of the interview, from ABC News:
Have a tip we should know? tips@mediaite.com