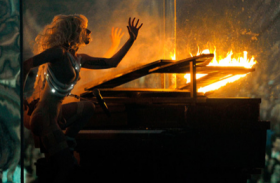 There was Britney with the snake. J Lo's Grammy dress. Madonna's various gender-bending and envelope-pushing over the years. Music awards shows have always featured big, sexy, diva-like moments, and maybe that's why we got such an eyeful from Lady Gaga and Adam Lambert tonight — where else to go but up? Or, rather, more?
There's no question that Gaga — and Glambert too — stand firmly on Madge's muscled shoulders, but after pushing the envelope for so long it seems to have gotten pushed into something different. In this seen-it-all age of the meta, the dramatic, fearless, hyper-sexualized personas of Gaga and Glambert are less transgressive than reflective — two operatic baroque, characters less pushing the envelope than wearing it. Call it "Post-Sexy": Incorporating and heightening the conventions of a sex-charged culture, so as to move beyond it.
Madonna delighted in shocking (think back to that Like A Prayer video) and revealing (think back to that coffetable Sex book). She loved forcing the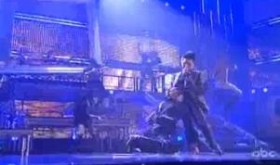 world to look at stuff. With Gaga and Glambert it's less a reveal than an acknowledgment, of this era in which bootylicious women dance nakedly on boats and Miley pole-dances and Kate Hudson's dress is commonplace. It's even there in their nicknames — Glambert and Gaga. They roll easily off the tongue, and for some reason they don't sound at all goofy when you say them (like "blog" and "Twitter" always will. Or "Mediaite").
Watching them, you almost forget that they have boatloads of talent. Glambert can wail on a high note like nobody's business, and the singing, dancing, piano-playing, songwriting Gaga is every kind of threat there is. There's one kind of threat Gaga has that Lambert doesn't though: Confidence. Lady Gaga has perfect confidence on stage — not bravado, just a serene comfort in who she is, what she is doing and why she is doing it. Lambert has confidence too, of course, but tonight showed it to be more the aggressive, defiant bravado of the over-confident.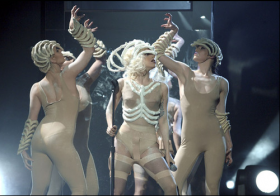 Lady Gaga and her dancers were flesh-toned, nearly naked, gyrating on the ground, but that wasn't the focus, it was part of the whole rather than a distraction from it. That, alas, could not be said of Lambert, whose performance lacked the pure, art-for-the-sake-of-art theatricality of Gaga (or, really, his album cover). It felt a little like a starlet timing her crotch shot just so for the paprazzi. S&M-garbed dancers and that already-infamous head-grab (yes, that one) are not exactly subtle. Or, really, even that edgy; crude gestures are nothing new to rock music, which is part of the in-your-face legacy that Lambert has inherited. Like Gaga, he wore rather than pushed the envelope; he just didn't wear it well.
Lambert's talent and presence are equal to far more than that number gave him (or really, that fairly forgettable song) — there's nothing brave or edgy about being in a suit when everyone else is in S&M gear (indeed, the frame at 2:41 made me think of this). The irony is that Lambert, who counts among his fans the gay, straight and bi-confused of all ilks, was far from his usual thrilling, sexy self, perhaps because the number had such a manufactured, mean edge. It was far, too, from the "unapologetic flamboyance and sexual swagger" of his thrilling Idol performances (that description, incidentally, is Out editor Aaron Hicklin's, and judging from the lack of freshness and fun in that number, he may have a point).
Despite being given some lame material to work with, though, Lambert is still a star, capable of Gaga-esque heights as soon as he — and his team — trusts himself to do it, with some cheek and risk and authenticity and emotion (he reminded me a bit of Ted Neely in there — see 3:07 — and man, would I love to see him sing that one). "Bad Romance" is an awesome tune, but amid the flames and smashing glass and bare assed-ness of "Speechless" the real star was Gaga and that voice. God I would have loved to have seen something similar from Glambert. Next time.
Compare and contrast below:


By the way, I feel like there must be a connection between the blatant, explicit sexual nature of Gaga and Glambert — whose performances wear the permissive mores of our society like a fancy headdress or a harness — and the repressed, charged, yearnful yet chaste world of Twilight, which is the other thing burning up the Zeitgeist right now. I'm still in the throes of early infatuation for all three — Gaga, Glambert and all things Twilight — so I'm not quite there yet. But, after careful consideration, I will say this: TEAM EDWARD.

(Lady G photos via FYLadyGaga)
Have a tip we should know? tips@mediaite.com