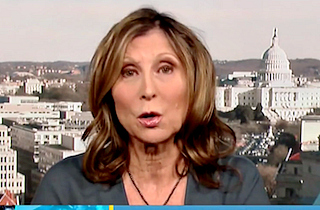 #GamerGate hasn't gotten much attention on le news de cable, making #GamerGate defender Christina Sommers' appearance on Ronan Farrow Daily Tuesday afternoon all the more notable. Sommers argued that the movement (absolutely not summarizing it; read this) was not a misogynistic cesspool of threatened man-children but a movement calling for more accountability in gaming journalism.

"I don't think they are anti-women," Sommers said. "They are pro-transparency. They are in favor of responsible research."
She also disputed Newsweek's study of #GamerGate tweets this week, which found that an overwhelming number of them were negative toward women. She pointed instead to a PEW study that found men suffered more harassment online.
"Like any social movement, there are idealists, careerists and thugs on both sides," Sommers said. "I just want to bring some balance."
Farrow tried to get Sommers to admit that at least part of the movement was based on harassing women. Sommers said she was supportive of women in gaming who had received rape and death threats, but argued that gamers had received threats as well, and were only trying to protect their subculture.
"There's a subculture of gamers who particularly like abstract, formal systems," she said. "They're almost like chess. But they're very engaging. They're competitive. They require a lot of manual and mental dexterity. And they love these games. They're a core market. And I think these gamers feel they're under siege, attacked for what they like. And I think we should just celebrate all sorts of games, but not attack a subculture. And #GamerGate is an effort to defend a subculture that's under siege."
Watch the clip below, via MSNBC:
[Image via screengrab]
——
>> Follow Evan McMurry (@evanmcmurry) on Twitter
Have a tip we should know? tips@mediaite.com