Gang Members Call for Peace in Baltimore: 'We Did Not Come Together Against Cops'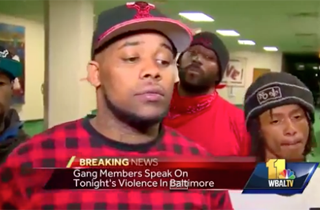 Everywhere on the ground in Baltimore, reporters are running into black men identifying themselves as gang member calling for peace, and refuting reports that three major gangs had joined forces to "take out" Baltimore police officers.
A meeting last night at Baltimore's New Shiloh Baptist Church, attended by protest organizers and gang members, underlined that claim. "That was a false alarm cooked up to divide the city even further," Bill Murphy, the attorney for the family of the slain Freddie Gray, told Vice.
One group of men at the church were bold enough to talk directly to a WBAL reporter, identifying themselves as gang members who had been trying to keep the peace against mobs of angry kids. "We want to tell the people of Baltimore city that the image they're trying to portray of gangs in Baltimore, of the BGF, the Bloods, Crips, we did not make a truce to harm cops," a man wearing red told her. "We did not come together against the cops. We're not about to let ya'll paint that picture of us."
According to them, the allegations of a gang alliance to take down cops appears to stem from the appearance of the three groups, as well as the Nation of Islam, at a Saturday protest. Images of the groups standing in unity quickly spread across social media, and as a man in blue pointed out, "When a group of 30 Bloods walks up on group of 30 Crips, and everyone salutes and shakes hands hugs and then everyone starts to take pictures, they say 'Oh no, now they're uniting to kill cops.'"
"Stop believing everything you hear in the media," he continued. "If you were not at that protest on the day we protested for Freddie you don't know what actually happened," he said. "Out of all the thousands of people that were down there, you mean to tell me that you're going to point the fingers at us, because we have colors on? No, we can't have that."
Watch below via WBAL:
[Image via screenshot]
—
>> Follow Tina Nguyen (@Tina_Nguyen) on Twitter
Have a tip we should know? tips@mediaite.com